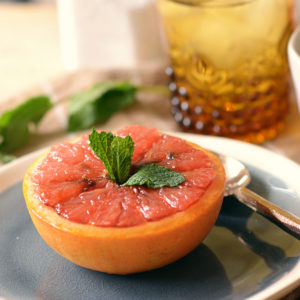 Baked Honey Brown Sugar Grapefruit
Author: Rachel Hanawalt
Prep time: 10 mins
Cook time: 15 mins
Total time: 25 mins
Have a bubbly-sweet start to your day with this simple breakfast recipe that's both beautiful and delicious!
2 halved grapefruits*
1 Tbsp melted butter**
2 Tbsp dark brown sugar
2 Tbsp honey
salt to taste
4 mint springs (optional)
Preheat oven to 400ºF.
Cut each grapefruit in half and then cut around each segment of the grapefruit with a serrated knife. If you don't have a grapefruit knife, a sharp bread knife works well.
Lightly brush each grapefruit with melted butter.
Pour ½ Tbsp of honey and then sprinkle ½ Tbsp of dark brown sugar over the center of each grapefruit. Don't spread the honey and and dark brown sugar, but instead let it melt over the fruit while baking.
Bake at 400ºF for 12-15 minutes. Let cool for 3 minutes and then serve with a mint spring placed in the center of the fruit as a garnish.
*I prefer ruby red grapefruit for this recipe for their large size and pink hue.
**To make this recipe dairy-free and vegan, replace the melted butter with a non-dairy butter.
Recipe by
Simple Seasonal
at https://simpleseasonal.com/recipes/baked-honey-brown-sugar-grapefruit