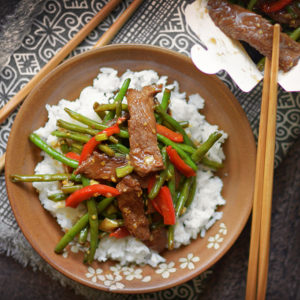 Instant Pot Mongolian Beef and Green Beans
Author: Rachel Hanawalt
Prep time: 10 mins
Cook time: 15 mins
Total time: 25 mins
Love the taste and convenience of Chinese carryout, but hate shelling out the cash for it? This Instant Pot recipe changes all that!
Sauce
¾ C light brown sugar
6 cloves minced garlic
1 Tbsp fresh minced or prepared ginger
1 Tbsp corn starch
½ C low sodium soy sauce
Mongolian Beef and Green Beans
1.25-1.5 lb flank steak or boneless sirloin steak cut into thin slices
1 red pepper cut into thin strips
1 lb bag frozen green beans
2 Tbsp corn starch
2 Tbsp canola oil
5 chopped scallions
In a medium mixing bowl combine the light brown sugar, minced garlic, fresh ginger, and corn starch. Whisk the soy sauce into the dry ingredients until the sugar is mostly dissolved and then set aside.
Cut the steak into thin slices, place it in a medium sized bowl, and coat it with 2 Tbsp of corn starch and set aside. Cut the red peppers and scallions and also set aside.
Add 2 Tbsp of canola oil to the Instant Pot. Turn the Instant Pot on to the medium or "normal" sauté mode for 15 minutes.
Add the beef to the pot and cook for 5 minutes, stirring frequently.
Next, add the red peppers and frozen green beans and sauté for another 5 minutes.
Add the sauce and cook for 4 minutes, stirring intermittently. During this time the Mongolian Beef should come up to a simmer.
Finally add the chopped scallions and simmer for 1 more minute. Serve immediately as is or with a side of rice*.
*The dish is best if served on a bed of jasmine or white rice.
Recipe by
Simple Seasonal
at https://simpleseasonal.com/recipes/instant-pot-mongolian-beef-and-green-beans