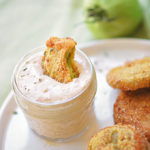 Chicken and Waffle Sliders with Spicy Maple Spread
Author: Rachel Hanawalt
Prep time: 15 mins
Cook time: 15 mins
Total time: 30 mins
Enjoy the big game with this truly unique appetizer that's bound to be the most talked about dish at the party!
Sliders
16 breaded chicken nuggets
1 box of toaster frozen mini waffles*
16 bread and butter pickle slices
¼ C thinly sliced red onion
1 C cold water
Spicy Maple Spread
⅓ C mayo
⅛ C extra dark pure maple syrup
4 tsp dark brown sugar
⅛ tsp salt
cayenne powder to taste**
Bake 16 breaded chicken nuggets in the oven per package instructions.
While the chicken nuggets are cooking make the Spicy Maple Spread by whisking all of the ingredients together in a small bowl and then setting aside.** Also cut the red onion into 1 inch thin slices and place them in the cold water for 10 minutes. After the onions have soaked, drain them and pat them dry with a towel. This will make the onion flavor more subtle so that it complements the sliders, rather than overpowering them.
About five minutes before the chicken is ready to come out of the oven begin toasting the frozen toaster mini waffles per package instructions. Then cut them into their individual mini waffles once toasted.
To assemble the Chicken and Waffle Sliders, spread a layer of Spicy Maple Spread on one side of two mini waffles. Then make a sandwich of waffle, onion, chicken nugget, pickle, and waffle. For the final touch, hold the slider together with a toothpick. Continue doing this until all 16 sliders are made. Plate the sliders and then garnish by drizzling the Chicken Sliders with the remainder of the Spicy Maple Spread. Serve immediately.
* Frozen mini waffles typically come in boxes of 32 mini waffles or 8 sets of 4 waffles, which means you will make 16 sliders.
** I used just under ⅛ tsp of cayenne and the sauce had a nice heat that stuck with you. Carefully add your cayenne a little at a time until the heat meets your preference.

Note: I used organic chicken nuggets and Earth's Best Organic Mini Waffles to make this recipe less processed for my family and we all thought they were great!
Recipe by
Simple Seasonal
at https://simpleseasonal.com/recipes/chicken-and-waffle-sliders-with-spicy-maple-spread