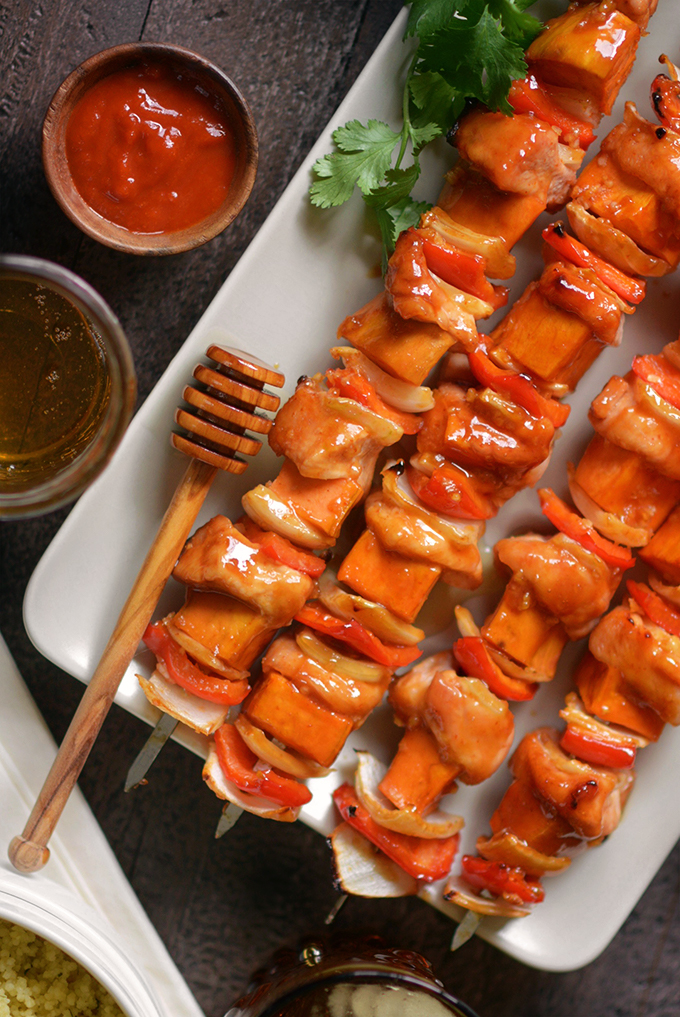 One Pan Honey Sriracha Chicken and Sweet Potato Skewers
Author: Rachel Hanawalt
Prep time: 30 mins
Cook time: 30 mins
Total time: 1 hour
Think warm thoughts with these spicy, sweet, and sticky skewers that will drive away the winter blues and get you ready for spring!
Honey Sriracha Marinade
⅓ C honey
1 Tbsp dark brown sugar
1 Tbsp sriracha sauce
1 Tbsp soy sauce
2 Tbsp rice wine vinegar
½ Tbsp corn starch
5 cloves minced garlic
⅛ tsp salt
Chicken and Sweet Potato Skewers
2½ C peeled and cubed sweet potatoes
2 Tbsp water
2 whole coarsely chopped red peppers
1 whole coarsely chopped medium sweet yellow onion
1 lb cubed chicken breast or tenderloins
4 long metal grilling skewers
fresh cilantro for garnish (optional)
Preheat oven to 400ºF. In a small mixing bowl, whisk together the honey, sriracha sauce, soy sauce, rice wine vinegar, corn starch, garlic, and salt.
Place the cubed sweet potato in a microwave-safe bowl with 2 Tbsp of water. Cover with plastic wrap or wax paper, ensuring a good seal to contain the steam. Cook on high for 4 minutes, mix, and then cook on high for an additional 3-4 minutes. The potatoes are done when they are tender, but not falling apart. Microwave for additional time as needed depending on how fast your microwave cooks.
While the potatoes are cooking chop the red peppers, onions, and chicken into 1 inch pieces.
Line a jelly roll pan with aluminum foil. If you don't have a jelly roll pan, a baking sheet will work. The benefit of the jelly roll pan is that it's higher lip will elevate the skewers off the pan during cooking.
Assemble the skewers by threading the chicken and sweet potato onto each skewer in a regular pattern. I used a pattern of chicken, sweet potato, onion, red pepper, onion, and so forth.
Place each skewer lengthwise on the pan so that the tips and handles are supported by the edges of the pan. This will elevate the skewers off of the pan. Next, baste each skewer with the Honey-Sriracha Marinade, reserving about ⅓ of the total marinade for later use. Allow the skewers to marinate for about 15 minutes before cooking. After the skewers are done marinating, baste them again with the drippings on the bottom of the pan.
Bake in a 400ºF oven for 15 minutes and then flip the skewers, baste with the remaining marinade, and bake for another 15-20 minutes. The skewers are done cooking when the chicken reaches an internal temperature of 165ºF. Remove from the oven and baste each skewer with the drippings from the bottom of the pan. Garnish with fresh cilantro as desired and serve immediately.
I recommend serving these Honey Sriracha Chicken and Sweet Potato Skewers with instant garlic couscous, which is available at most grocery stores.
Recipe by
Simple Seasonal
at https://simpleseasonal.com/recipes/one-pan-honey-sriracha-chicken-and-sweet-potato-skewers