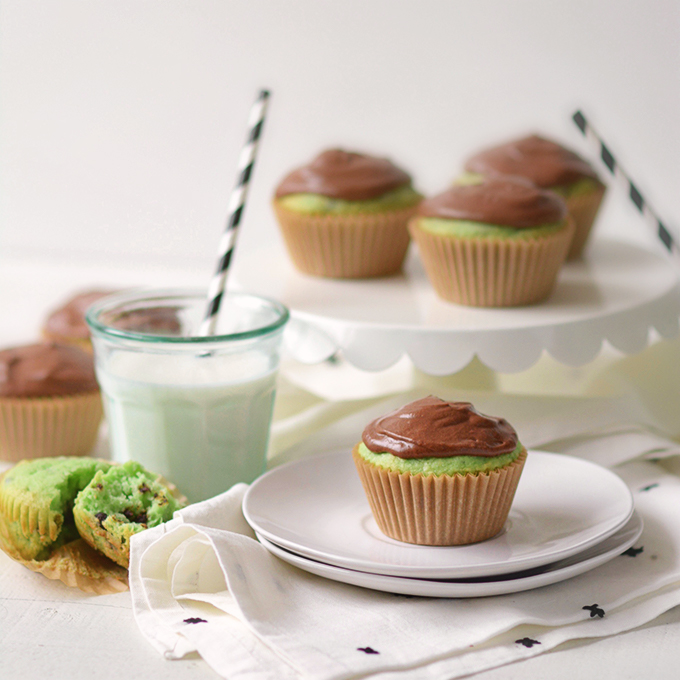 Semi-Homemade Mint Chocolate Chip Cupcakes
Author: Rachel Hanawalt
Prep time: 30 mins
Cook time: 18 mins
Total time: 48 mins
Nothing beats the dynamic flavor duo of mint and chocolate, and this yummy, festive cupcake recipe with a to-die-for chocolate frosting is determined to prove it!
Semi-homemade Mint Chocolate Chip Cupcakes
1 box Pillsbury Purely Simple White Cake and Cupcake Mix*
1 stick softened butter
1 C milk
3 eggs
¾ tsp mint extract (not peppermint)
15 drops green food coloring (optional)
¾ C mini semi-sweet chocolate chips
Ermine Chocolate Butter Cream Icing
1 C whole milk
5 Tbsp flour
1 C melted butter (1 stick)
⅔ C cocoa powder
1¼ C granulated sugar
2 pinches salt
1 tsp vanilla
Semi-Homemade Mint Chocolate Chip Cupcakes
Preheat oven to 350ºF and place the oven rack in the middle of the oven. Place 24 cupcake liners into muffin tins.
Using a hand mixer combine the cake mix and softened butter until they are completely combined and smooth. Next mix in the milk, eggs, mint extract, and green food coloring and beat for 2 minutes.
Using a spatula fold in the mini chocolate chips.
Using an ice-cream scoop fill each cupcake liner until it's half full with batter and then bake in the center of a 350ºF oven for for 17-20 minutes. The cupcakes are done cooking when they are just beginning to turn a golden color on the tops and a toothpick comes out clean when poked through the center. Repeat for for a second pan if you don't have two muffin tins.
Place the cupcakes on a cooling rack and allow them to cool completely before frosting.
Ermine Chocolate Butter Cream Icing
Combine the milk and flour in a saucepan. Cook over medium heat while stirring constantly and scraping along the bottom of the saucepan to prevent burning. The mixture will begin to bubble. Cook until it becomes thick and paste-like, then immediately remove it from the heat. Cover the thickened milk with plastic wrap touching it's surface to prevent it from drying out and allow it to cool completely for an hour.
Meanwhile melt a stick of butter and using and using an electric mixer combine it with the cocoa powder until there are no lumps. Add granulated sugar, 2 pinches of salt, and vanilla to the mixture and beat for about 5 minutes.
Once the cooked milk has come to room temperature, add it to the bowl and beat until the icing becomes fluffy like whipped cream. This will take 4-5 minutes.
Frost the cooled cupcakes and serve. Store in the refrigerator for up to five days.
*If you're using a different brand for your cake mix than disregard the butter, milk and eggs listed in the recipe instructions and instead follow the instructions one the box mix and mix in the mint extract, green food coloring and mini semi-sweet chocolate chips.
Recipe by
Simple Seasonal
at https://simpleseasonal.com/recipes/semi-homemade-mint-chocolate-chip-cupcakes