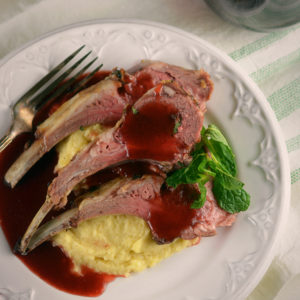 Roasted Rack of Lamb with Parsnip Purée and Strawberry Mint Sauce
Author: Rachel Hanawalt
Prep time: 15 mins
Cook time: 30 mins
Total time: 45 mins
What better way to celebrate spring holidays than with a succulent rack of lamb paired with fresh spring flavors of strawberry and mint on the side!
Lamb
1 rack of lamb with 6-8 ribs (0.75 to 1 lb)
2 Tbsp olive oil
1 clove minced garlic
½ finely chopped mint
¼ tsp salt
⅛ tsp pepper
aluminum foil
Parsnip Puree
1 lb parsnips peeled and thinly sliced
⅛ C white onion
2 cloves minced garlic
1¼ C 2% milk
4 Tbsp butter
¼ tsp salt
black pepper to taste
Strawberry Mint Sauce
1 C fresh or frozen strawberries (1/2 lb frozen)
⅛ C honey
1 tbsp balsamic vinegar
7 fresh mint leaves
Lamb
Marinade: Mix together the olive oil, minced garlic, chopped mint, and the salt and pepper in a ziplock bag. Add the rack of lamb to the bag and coat it in the olive oil. Allow it to marinate overnight or at least one hour. Be sure to allow the lamb 1 hour to come to room temperature in the marinade before cooking, otherwise the meat won't cook evenly.
Prep Meat: Preheat oven to 450ºF. Once the marinated rack of lamb is up to room temperature, score or cut slices in the fat of the lamb that are about one inch apart. Next wrap each bone with aluminum foil to keep them from burning. Place the lamb rack fat-side-up on a baking sheet which has been lined with aluminum foil. Rub each piece with some of the excess marinade from the ziplock bag so that each piece is coated.
Roast: Roast the lamb in the middle of the oven at 450ºF for 10 minutes. Reduce the heat to 300º F and cook for an additional 10-20 minutes, depending on the thickness of the cut of meat. The rack of lamb is done cooking when it reaches an internal temperature of 130º-135ºF for medium rare.
Serve: Cut in between each rib and the serve 2-3 ribs for each person atop the Parsnip Purée and drizzle with Strawberry Mint Glaze.
Parsnip Purée
Place all the ingredients for the parsnip purée in a large saucepan. Bring the milk to a boil, reduce the heat to a simmer, and cook covered for 15 minutes.
Purée the parsnips with a hand blender or in an upright blender. Serve hot with the lamb.*
Strawberry Mint Glaze
In a small saucepan combine all the ingredients. There's no need to chop the mint, just massage it before adding it to the saucepan to help release some of the flavor. Bring to a boil over hight heat and then reduce to a simmer. Simmer for 20 minutes.
Allow to cool for 5 minutes and then strain through a mesh colander. Set aside until you're ready to serve.*
*I recommend preparing the parsnip purée and the Strawberry Mint Sauce while the lamb is cooking.
Recipe by
Simple Seasonal
at https://simpleseasonal.com/recipes/roasted-rack-of-lamb-with-parsnip-puree-and-strawberry-mint-sauce