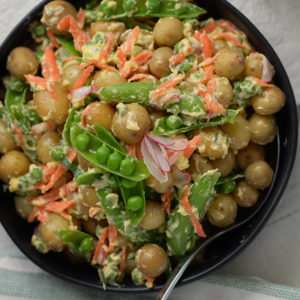 Spring Vegetable Crème Fraîche Potato Salad
Author: Rachel Hanawalt
Prep time: 25 mins
Cook time: 20 mins
Total time: 45 mins
Even if spring has not quite yet sprung, this fresh, flavorful salad with a zesty dressing will put you in the mood for sunshine and daffodils!
Spring Vegetable Salad
1½ lbs new yellow potatoes*
1 C sugar snap peas
½ C fresh peas**
½ C grated carrots
Crème Fraîche Dressing
⅔ C crème fraîche
1 Tbsp olive oil
1 Tbsp white wine vinegar
1 Tbsp fresh squeezed lemon juice
zest of 1 lemon
4 chopped green onions
1 Tbsp finely chopped chives
1 Tbsp finely chopped mint
½ tsp salt
black pepper to taste
¼ C thinly sliced radishes for garnish
additional chives and mint for garnish (optional)
Clean the potatoes and place them in a pot of cold water. Bring to a boil and then reduce the heat to a gentle simmer. Simmer for 15-20 minutes. This cooking time is the average for new potatoes. The time can vary widely based on the size of your potatoes. They are done when they are just fork tender. Take care not to over cook. Once cooked, strain them and run them under cold water to stop the cooking process. Cut each potato into bite sized pieces if needed.
Meanwhile, bring a smaller pot of water to a boil. Wash and de-string the sugar snap peas. Prepare an ice bath with a tray of ice cubs and cold water in a bowl. Blanch the sugar snap peas and fresh peas by adding them to the boiling water for one minute and then immediately add them to the ice bath. Once cooled, remove them and open each pea pod leaving the peas intact and set them aside.
In a large mixing bowl, while the potatoes are cooking, make the dressing. Whisk together crème fraîche, olive oil, white wine vinegar, lemon zest, green onion, chives, mint, and salt.
Add the cooled potatoes and grated carrots to the bowl and stir until the salad is evenly coated. Next add the peas to the bowl and gently fold them in so that they don't fall apart.
Season with black pepper to taste and garnish with radishes and fresh herbs. Be sure to add the radishes right before serving as they will release water into the salad if they sit. Serve immediately or store in the refrigerator for up to five days.
*If you're unable to find new potatoes you can also use baby potatoes. You will have to cook them longer and then once cooked, cut them in halves or quarters for your salad.

**You can substitute with thawed frozen peas. There is no need to blanche the frozen peas.
Recipe by
Simple Seasonal
at https://simpleseasonal.com/recipes/spring-vegetable-creme-fraiche-potato-salad