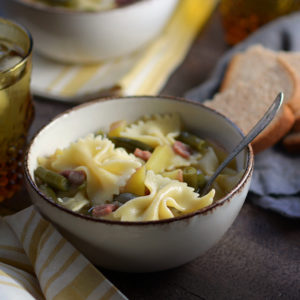 The Best Pennsylvania Dutch Ham, Green Bean and Potato Soup
Author: Rachel Hanawalt
Prep time: 10 mins
Cook time: 20 mins
Total time: 30 mins
This reboot of an old Pennsylvania Dutch standard will make you a believer - and hungry for a second bowl...
2 Tbsp reserved bacon grease
1 C chopped sweet onion
3 cloves garlic
2 C chopped ham
2 C frozen green beans
2 C chopped red potatoes
2 C bow tie Pasta (a.k.a. farfalle)
7 C chicken broth
In a large pot or a dutch oven, sauté the sweet onion in the reserved bacon grease for 3 minutes. If you plan ahead you can freeze leftover bacon grease from another meal to use in this soup.
Once the onions are softened add the 3 cloves of minced garlic to the pot and cook an additional minute.
Next, dump the remainder of the ingredients into the pot and cook over high heat until the soup comes to a rolling boil and then reduce the heat to achieve a gentle boil. Simmer for 17-20 minutes, stirring occasionally to keep the pasta from sticking to the bottom of the pan. Serve immediately or store in the refrigerator for up to 5 days.
Recipe by
Simple Seasonal
at https://simpleseasonal.com/recipes/the-best-pennsylvania-dutch-ham-green-bean-and-potato-soup