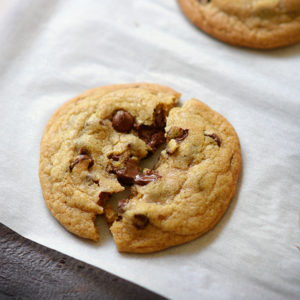 Perfect Crunchy Soft Batch Chocolate Chip Cookies
Author: Rachel Hanawalt
Prep time: 20 mins
Cook time: 10 mins
Total time: 30 mins
Searching for the perfect chocolate chip cookie recipe? You know, the ones that are crunchy and buttery on the outside but soft on the inside? Well, you've just found it!
1 C (2 sticks) salted butter
2¼ C plus ⅓ C all purpose unbleached flour
1 tsp baking soda
½ tsp cream of tartar
½ tsp salt
¾ C granulated sugar
¾ C dark brown sugar
2 tsp pure vanilla extract
2 large eggs
1 12 oz bag Hershey's semi-sweet chocolate chips*
Preheat the oven to 375ºF.
In a microwave safe dish, microwave 2 sticks of butter on high until they are just melted. You will need to watch the butter as you are melting it so that you don't overheat it. If the butter is too hot it will melt the sugar and affect the texture of the cookies. After pulling the butter from the microwave allow it to sit for 5 -10 minutes while you prepare the other ingredients. This will mean that your butter is melted and about room temperature.
In a small bowl combine the unbleached flour, baking soda, cream of tartar, and salt. Lightly mix together the ingredients and then set them aside.
In a large bowl beat together the granulated sugar, dark brown sugar and butter on high for 2-3 minutes, or until the mixture is smooth and creamy. Add the vanilla and the eggs to the bowl and mix on low for 10-20 seconds, or until the eggs are just combined, taking care not to over-mix.
Intermittently add the flour to the mixture while beating on low. Continue until the flour is just barely incorporated, once again taking care not to over-mix.
Using a spatula, stir in the semi-sweet chocolate chips until they are evenly distributed.
Line a baking sheet with parchment paper. Roll the dough into large balls (see picture) and bake at 375º for 9-11 minutes. The cookies are done baking when they begin to show a faint golden kiss. It's important not to overcook them so that they'll be a little crunchy on the outside, but soft on the inside.
*I prefer Hershey's semi-sweet chocolate chips for this recipe, as they maintain a good texture and flavor within the cookie after they are baked and have cooled.
Recipe by
Simple Seasonal
at https://simpleseasonal.com/recipes/meal-types/desserts/perfect-crunchy-soft-batch-chocolate-chip-cookies