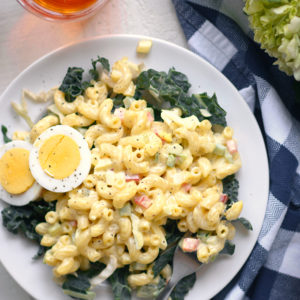 Author: Rachel Hanawalt
Prep time: 35 mins
Total time: 35 mins
For your outdoor events, skip the hot sides and instead enjoy the creamy coolness of this classic summer macaroni salad.
Dressing
2 C mayo
⅓ C sugar
3 Tbsp yellow mustard
2 Tbsp sweet relish
2 tsp white vinegar
1 tsp celery seed
½ tsp salt
Salad
4 finely chopped hard boiled eggs plus 2 more for slicing as garnish if desired.
1 Tbsp white vinegar (for cooking eggs)
1 lb box elbow macaroni*
1 Tbsp salt
⅔ C finely chopped sweet onion
⅔ C finely chopped celery
⅔ C finely chopped sweet bell pepper
⅔ C finely chopped green bell pepper
Place 4-6 eggs in a pot of cold water. Bring to a boil over high heat. Once boiling, turn off the water, cover the pot, and allow the eggs to sit in the hot water for 11 minutes, then place the eggs in an ice bath or rinse with cold water until they are cool. Refrigerate until you are ready to use.
While the eggs are cooking mix together all of the dressing ingredients in a large bowl until smooth and then set it aside.
Bring 4-6 quarts of water to a boil in a large pot. Add 1 Tbsp of salt and then add the pasta to the water. Boil the pasta according to the package instructions until it is al dente (approximately 7 minutes). Drain the pasta and lightly rinse it with cold water. Allow the pasta to come to room temperature before incorporating it into your salad.
While the pasta water is heating and the pasta is cooking, chop all of the vegetables.
Fold the cooked and cooled pasta into the dressing. Next, fold in the vegetables. Finely chop the eggs and fold them in. Serve immediately, but it is best served chilled. Store in the refrigerator for up to five days.
*I prefer the version of elbow macaroni that Barilla produces as it has indentations in the pasta that hold onto the dressing.
Recipe by
Simple Seasonal
at https://simpleseasonal.com/recipes/amish-macaroni-salad