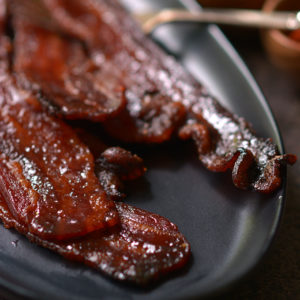 Chipotle Brown Sugar Candied Bacon
Author: Rachel Hanawalt
Prep time: 10 mins
Cook time: 40 mins
Total time: 50 mins
Sugar and spice and everything nice; that's what this dangerously addictive dish is made of!
1 lb. thickly sliced bacon
¾ C packed dark brown sugar
¾-1¼ tsp smoked chipotle chili powder
Preheat oven to 350ºF*.
In a small bowl evenly mix together the dark brown sugar and chipotle chili powder. ¾ teaspoon chipotle chili powder produces a mild heat and 1 to 1¼ teaspoons produces a medium heat. If you really love spicy food you could add more, but be careful!
On a large plate rub the brown sugar mixture onto both sides of each slice of bacon. The brown sugar should coat the bacon, but it shouldn't be caked on. If you over-apply the sugar it will drip and burn when you cook it.
Line a baking sheet with aluminum foil to make clean-up easier later. Place an oven safe baking rack on the lined baking sheet. Next, evenly arrange the bacon on the baking rack so that it's touching, but not overlapping.
Bake in a 350ºF oven for 40-45 minutes. Do not flip the bacon. The bacon is done once it starts to appear crispy. Different people like their bacon cooked to different levels of doneness so adjust the cooking time to appeal to your particular preference.
Once cooked, allow the bacon to cool for 5 minutes and then place it on a plate or a piece of wax paper so that it can cool without sticking to the baking rack. Take care not to burn yourself on the hot sugar. Do not place the bacon onto paper towels as the candied brown sugar will stick to it. Enjoy after the bacon has cooled for 5 more minutes or serve at room temperature.
*Many candied bacon recipes call for baking the bacon at a temperature of 400ºF. I tested this recipe twice each at 400ºF and 350ºF and found that cooking the bacon more slowly at a lower temperature resulted in the sugar caramelizing better with less burning.
Recipe by
Simple Seasonal
at https://simpleseasonal.com/recipes/chipotle-brown-sugar-candied-bacon