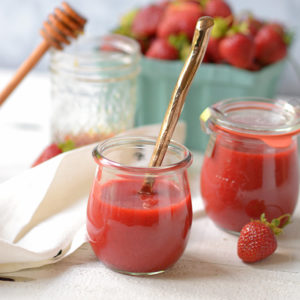 All-Natural Reduced-Sugar Strawberry Sauce
Author: Rachel Hanawalt
Prep time: 1 hour 15 mins
Cook time: 15 mins
Total time: 1 hour 30 mins
Enjoy all of the big, sweet flavor of fresh strawberries on top of your favorite desserts and breakfast foods - with a fraction of the sugar!
1 lb (about 3 heaping cups) hulled and quartered fresh strawberries
¼ C water
3 Tbsp honey
Wash, hull, and quarter the strawberries. Combine in a saucepan with the water and honey.
Over high heat bring the strawberry mixture to a boil. Mash the strawberries with a potato masher and reduce the heat to a rapid simmer. Continue to cook for an additional 10 minutes, taking care to stir frequently to prevent burning.
Remove the sauce from the heat and allow it to cool for about 1 hour until it comes to room temperature. You can expedite this by placing it in the refrigerator or the freezer.
Once the strawberry sauce is room temperature purée it until smooth with a hand blender or a traditional blender.
Finally, strain the sauce through a fine metal strainer. Serve immediately at room temperature or chill before serving. Store in the refrigerator for up to 1 week or in the freezer for up to 1 year.
Recipe by
Simple Seasonal
at https://simpleseasonal.com/recipes/all-natural-reduced-sugar-strawberry-sauce