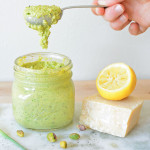 Garlic Scape Aioli (Mayo)
Author: Rachel Hanawalt
Prep time: 10 mins
Total time: 10 mins
Are you the type that likes to put mayo on everything? If so, this tasty, well-balanced aioli will add a creamy and delicious flavor delight to your next meal!
4 roughly chopped garlic scapes
⅛ tsp sea salt
1 egg yolk
½ lemon, juiced (about 1 Tbsp)
⅓ C olive oil
⅓ C vegetable oil
Wash and roughly chop the garlic scapes. Trim off and discard the flower bud. In a food processor finely mince the garlic scapes with the salt.
Add the egg yolk and lemon juice to the food processor and pulse until fully incorporated.
Next, with the food processor running, very, very slowly pour in both of the oils. It's important to add them slowly so that it emulsifies with the egg. Continue to process until the oil is fully incorporated and the aioli is creamy like mayo.
Serve immediately or store in the refrigerator for up to one week.
Recipe by
Simple Seasonal
at https://simpleseasonal.com/recipes/garlic-scape-aioli