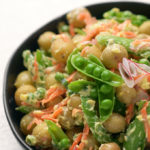 Ginger Miso Turnips and Sugar Snap Peas
Author: Rachel Hanawalt
Prep time: 10 mins
Cook time: 15 mins
Total time: 25 mins
This tasty, Asian-inspired summer side has an air of sophistication, but is surprisingly sweet and approachable.
½ lb sugar snap peas
1 Tbsp canola oil
1 lb turnips
4 scallions (about ⅓ C)
2 Tbsp minced ginger
2 Tbsp white miso
½ tsp dark brown sugar
2 Tbsp water
Peel and chop the turnips into bite-sized pieces. Wash, remove the stems from, and string the sugar snap peas. Cut the trimmed sugar snap peas in half diagonally. Chop the scallions and mince the garlic.
Heat 1 Tbsp of canola oil over medium-high heat. Evenly spread the turnips out over the pan and do not stir for 5 minutes so that they brown. Continue cooking, stirring periodically for another 3-5 minutes or until the turnips begin to soften.
Meanwhile, whisk together the white miso, dark brown sugar, and water. Set aside.
Add the sugar snap peas, scallions and ginger to the pan and cook for 3 more minutes or until the peas are just tender. Pour the miso mixture over the vegetables and cook for 1 more minute and then remove from the heat. Serve immediately.
Recipe by
Simple Seasonal
at https://simpleseasonal.com/recipes/ginger-miso-turnips-and-sugar-snap-peas