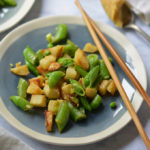 Skillet Pork Chops with Blackberry Glaze
Author: Rachel Hanawalt
Prep time: 2 hours 35 mins
Cook time: 20 mins
Total time: 2 hours 55 mins
Do you tend to shy away from blackberries due to their texture? Shy away no more! This sweet & savory recipe captures all the wonderful flavor with no pesky seeds!
Pork Chops
4 bone-in chops
¼ C dark brown sugar
2 tsp salt
2 Tbsp rice vinegar
½ C warm water
1-2 Tbsp olive oil
black pepper to taste
Asian Blackberry Sauce
1 Tbsp butter
½ C blackberry jam preserves
2 Tbsp hoisin sauce
1 to 2 Tbsp rice vinegar
1 Tbsp Mirin
¼ C water
1 C fresh blackberries for garnish (optional)
Pork Chops
In a ziplock bag mix together the dark brown sugar, salt, rice vinegar, and water. Brine the pork chops in the sweet and salty mixture for 2-4 hours in the refrigerator. Take the chops out of the refrigerator 30 minutes before cooking so that they can come to room temperature.
Preheat oven to 400ºF. Remove the pork chops from the brine and pat dry. Rub each side of the pork chops with olive oil and black pepper to taste.
Cook in a cast iron skillet or other oven-safe pan. On the stove top sear the pork chops on each side over medium-high heat until they are golden-brown. About 3 minutes on each side. Carefully transfer the pork chops to the oven and roast for 6-10 minutes or until the chops reach an internal temperature of 140-145ºF. Transfer the chops to a plate and allow them to rest uncovered while you make your blackberry sauce. Return the skillet to the stove without cleaning as the fonds will add flavor to your sauce.
Asian Blackberry Sauce
In a small bowl whisk together blackberry jam, hoisin sauce, rice vinegar and mirin.
In the skillet you used for your pork chops, melt 1 Tbsp of butter over medium heat.
Add the blackberry jam mixture to the pan and bring to a simmer. Cook until the sauce is reduce by half.
To serve, drizzle the blackberry sauce over the pork and garnish with fresh blackberries.
This recipe is pictured with my recipe for Ginger Miso Turnips and Sugar Snap Peas. To get the recipe click the link below this recipe card.
Recipe by
Simple Seasonal
at https://simpleseasonal.com/recipes/skillet-pork-chops-with-blackberry-glaze