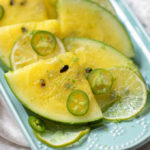 Frozen Watermelon and Lime Yogurt Bites
Author: Rachel Hanawalt
Prep time: 2 hours 30 mins
Total time: 2 hours 30 mins
This cool, refreshing, and healthy treat is perfect for grownups and kids alike, especially on those long, hot summer days!
25-50 bite-sized watermelon cubes (approximately half a watermelon)*
2 5 oz key lime Greek yogurt cups
6 vanilla wafers, crushed (optional)
Arrange the watermelon cubes on a baking sheet so that they are not touching. Place them into a freezer for 2 hours.
Remove the frozen watermelon cubes from the freezer. Dip each cube into the lime yogurt and then place back onto the baking sheet with the yogurt side facing up.
Sprinkle them with the optional crushed vanilla wafers.
Place the yogurt-coated watermelon cubes back into the freezer and freeze for another 2 hours.
The watermelon can be stored in freezer-safe ziplock bags for up to 3 months.
*I recommend cutting the watermelon cubes to the approximate size of a game dice, so that once they are dipped in yogurt, they are the perfect size for popping in your mouth. For toddlers, make them larger so that the "bites" are big enough for your child to fist. This is so they can chew and suck on them without choking. As they chew on the fruit it will melt and become soft so that they can safely swallow the small pieces of watermelon. For babies, place the bites into a Fresh Food Teether. See the Amazon affiliate link below. Note: Never leave small children unsupervised with food.
Recipe by
Simple Seasonal
at https://simpleseasonal.com/recipes/frozen-watermelon-and-lime-yogurt-bites