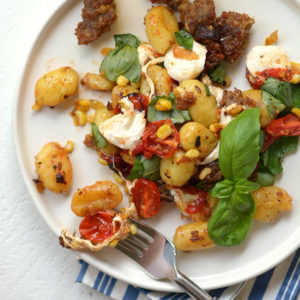 Summer Gnocchi and Sausage with Corn and Fresh Mozzarella
Cuisine:
Italian-American
Author: Rachel Hanawalt
Prep time: 15 mins
Cook time: 20 mins
Total time: 35 mins
When the kids are driving you nuts and you just want something tasty and comforting, this fresh summer pasta dish is just the ticket!
1 Tbsp plus1 tsp olive oil, divided
1 pint (10 oz) grape or cherry tomatoes cut in half
1 package ground mild Italian sausage*
1 Tbsp butter
¼ C chopped sweet onion
3 cobs of corn with the kernels removed (about 1 heaping Cup)
1 17.5 oz package of potato gnocchi
⅓ C coarsely chopped fresh basil
½ C Fresh mozzarella balls (or mozzarella cut into bite-sized pieces)
salt and pepper to taste
Preheat oven to 425º F. Line a baking sheet with aluminum foil. On the baking sheet evenly spread out the tomatoes so that they are seed side up. Drizzle them with about 1 Tbsp olive oil. Season with salt and pepper to taste. Bake for 15-20 minutes.
Fill a large pot with water and bring it to a boil.
While the tomatoes are roasting and the water is coming to a boil, cook the remainder of the ingredients in a skillet. Add 1 tsp of olive oil to the skillet and bring up to medium-high heat. Add the Italian sausage to the skillet and evenly spread out over the bottom of the skillet. Cook undisturbed for 3-4 minutes so as to brown the meat. Next break up the meat and cook for another 1-2 minutes until it's cooked through. Scoop the cooked meat into a dish, cover, and set aside. Drain any excess fat from the pan, leaving the fonds behind.
Reduce the heat to medium and add 1 Tbsp of butter to the skillet and melt. Once melted, add the onions and cook for 3 minutes. Once the onions are softened add the corn and cook for 3 minutes. Season with salt and pepper to taste.
By this point the pot of water should be boiling. Add the gnocchi to the pot and boil for 2 minutes or according to package directions.
Increase the skillet heat to high. Add the cooked and drained gnocchi. Cook for 3 minutes, stirring frequently. Add the sausage back into the pan and cook for 1 more minute and then remove from the heat.
By this time the tomatoes should be done roasting, so remove them from the oven. Gently fold the tomatoes in with the gnocchi. Garnish with ½ C coarsely chopped fresh basil and ½ C fresh mozzarella balls. Serve immediately.
*If you can't find ground sausage without the casings, you can just squeeze your meat out of the casings, form it into a large patty, and then cook it.
Recipe by
Simple Seasonal
at https://simpleseasonal.com/recipes/summer-gnocchi-and-sausage-with-corn-and-fresh-mozzarella