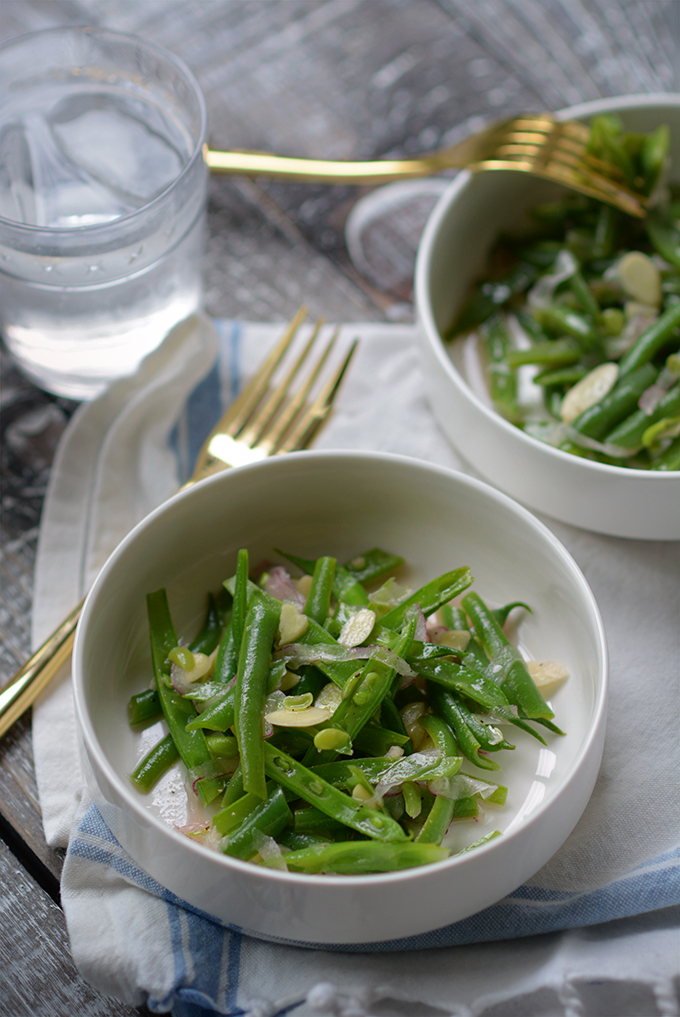 Green Beans Almondine Salad
Author: Rachel Hanawalt
Prep time: 25 mins
Cook time: 5 mins
Total time: 30 mins
Pair the traditional flavors of green beans almondine with a red wine vinaigrette to transform it into a summertime picnic treat!
Green Bean Salad
1 quart (1 lb) green beans, stems removed and cut lengthwise
½ C red onion, cut in half and thinly sliced
¼ C sliced raw almonds
Red Wine Vinaigrette
4 Tbsp vegetable oil
3 Tbsp red wine vinegar
1 Tbsp plus 1 tsp granulated sugar
½ tsp dry mustard
¼ tsp garlic, minced
½ tsp salt
⅛ tsp black pepper
Wash and French cut your green beans. To learn how to French cut green beans refer to the directions and photo within the post.
Bring water to a boil in a vegetable steamer. I recommend using a steamer that doesn't submerge the vegetables in water at all. Less nutrients and flavor will be lost. While the water is coming to temperature, prepare an ice bath by placing 2 trays of ice cubes and water into a large bowl.
Steam the green beans for 4-6 minutes, or until they are just barely fork tender. Immediately transfer them to the ice bath and completely cool them before draining.
While the green beans are steaming, thinly slice the red onion so that it's almost paper thin. This is best done with a mandolin or a very sharp knife. Soak the sliced onion in cool water for 5-10 minutes and then drain them throughly. This keeps them from being too pungent in your salad.
Once your green beans and onions have been prepared, mix the the dressing ingredients together in a medium mixing bowl until evenly combined.
Add the cooked green beans, soaked onions, and almonds into the bowl with the mixed dressing. Fold together to evenly combine and serve immediately or the same day.*
*Take note that if this salad is not served the same day as it's prepared it still tastes quite good, but over time the vinegar will cause the green beans to lose their bright green color.
Recipe by
Simple Seasonal
at https://simpleseasonal.com/recipes/green-beans-almondine-salad