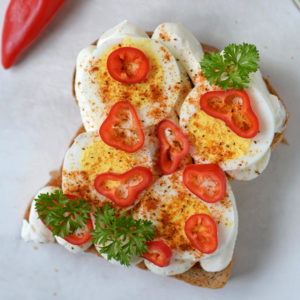 Old Bay Eggs Ricotta Toast
Author: Rachel Hanawalt
Prep time: 5 mins
Cook time: 15 mins
Total time: 20 mins
Power through your morning with this tasty, high-protein breakfast packed with calcium, Vitamin C, and Vitamin A!
1 piece toast
3 oz ricotta cheese
1 hard boiled egg, cut into thin slices
1 Tbsp white vinegar
¼ tsp old bay seasoning
1 red lunchbox pepper cut into thin slices
3 small fresh parsley sprigs for garnish
Toast 1 piece of bread.
To hard boil an egg, place it in a small saucepan with the white vinegar and enough water to submerge the eggs by an inch. Cook over high heat until it reaches a hard boil. Then remove from the heat and allow it to sit for 11 minutes. After 11 minutes have passed drain the hot water. Add cold water and a few ice cubes to the pot to quickly cool the egg.*
Measure the ricotta cheese into a ziplock bag. Clip one end of the ziplock bag and squeeze the ricotta onto your toast in a zigzag pattern as if using a frosting bag.
Slice the egg and arrange it on the ricotta toast. Season with Old Bay Seasoning. Garnish with peppers and fresh parsley. Serve immediately.
*If you decide to cook 6 to a dozen hardboiled eggs in advance, follow the same directions, but use ¼ C white vinegar.
Recipe by
Simple Seasonal
at https://simpleseasonal.com/recipes/old-bay-eggs-ricotta-toast