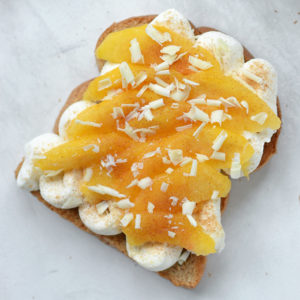 Cinnamon Peaches n' Cream Ricotta Toast
Author: Rachel Hanawalt
Prep time: 5 mins
Total time: 5 mins
Celebrate the joys of peach season with the delicate, lightly-sweetened high-protein breakfast recipe!
1 piece toast
3 oz ricotta cheese
½ peach, peeled and cut into thin slices
½ tsp cinnamon sugar
1 tsp white chocolate shavings
Toast 1 piece of bread.
Measure the ricotta cheese into a ziplock bag. Clip one end of the ziplock bag and squeeze the ricotta onto your toast in a zigzag pattern as if using a frosting bag.
Arrange peach slices over the piece of ricotta toast. Season with cinnamon sugar. Garnish with fresh white chocolate chip shavings. Serve immediately.
Recipe by
Simple Seasonal
at https://simpleseasonal.com/recipes/cinnamon-peaches-n-cream-ricotta-toast