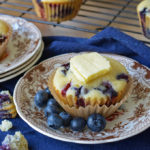 Zucchini Bread with Butter and Brown Sugar
Author: Rachel Hanawalt
Prep time: 25 mins
Cook time: 60 mins
Total time: 1 hour 25 mins
A buttery and delicious variation of traditional zucchini bread along with helpful tips on how to prepare and store any kind of zucchini bread!
1 C (2 sticks) butter, melted and then cooled to room temperature
3 C all-purpose flour
½ tsp baking powder
1 tsp salt
2½ tsp cinnamon
1 C granulated sugar
1 C packed dark brown sugar
2 tsp vanilla extract
3 eggs, lightly beaten
2 C grated zucchini (about three medium zucchinis)
Preheat your oven to 325º F. Generously grease the inside of the pan on all sides and set aside.
Using a microwave, melt the butter in a covered microwave-safe dish for 2½ minutes on medium power. Allow it to sit and come to room temperature for 10 to 15 minutes before adding it to your batter.
While the butter is cooling, mix together the dry ingredients by combining the flour, baking powder, salt, and cinnamon in a small mixing bowl. Set aside.
In a large bowl cream together the granulated sugar, dark brown sugar, melted butter, and vanilla extract. Then stir in the beaten eggs until evenly combined.
Next slowly add the dry ingredients to the large bowl taking care not to mix too quickly. Otherwise your flour will fly all over you kitchen.
Grate the zucchini on a box grater. If your zucchinis are large, grate around the seeds and discard them. Using a spatula, fold the grated zucchini into the batter until it's evenly combined.
Pour the zucchini bread batter into the loaf pan. Bake in a 325º F oven for 60-70 minutes or until a toothpick inserted into the middle of the bread comes out clean. Cool the bread for 10 minutes before turning it upside down and removing it from the pan. Allow it to cool completely for about an hour on a cooling rack before slicing.
Recipe by
Simple Seasonal
at https://simpleseasonal.com/recipes/zucchini-bread-with-butter-and-brown-sugar