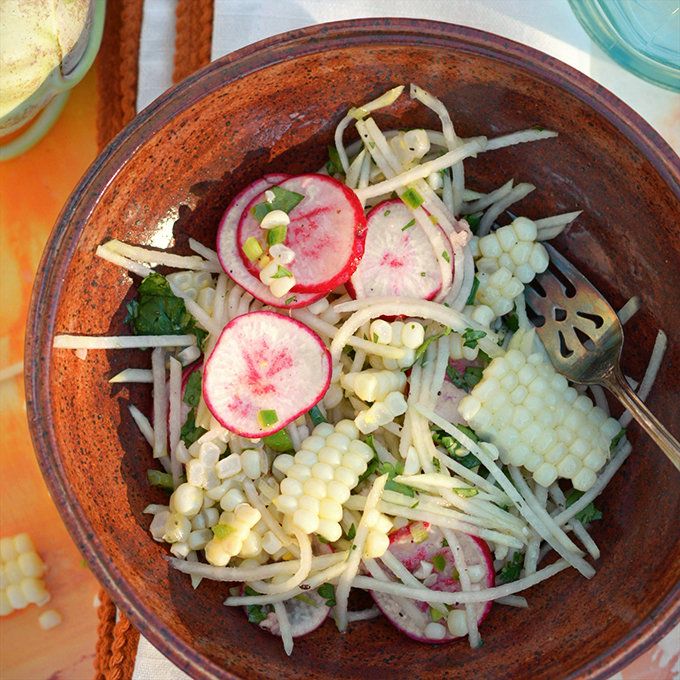 Author: Rachel Hanawalt
Prep time: 20 mins
Cook time: 15 mins
Total time: 35 mins
Not sure what to do with that fresh kohlrabi? This late summer/early fall salad is the perfect way to enjoy it's mild flavor and signature crunch!
Salad
5 ears of sweet corn, brought to a boil and then cut from the cob and cooled
1 large kohlrabi, peeled and julienned (about 2 C)
1 C thinly sliced radishes
¼ C chopped green onions
1 seeded and finely chopped jalapeño
½ C grated cojita cheese (optional)
Dressing
3 Tbsp olive oil
4 Tbsp red wine vinegar
½ tsp agave or 1 tsp granulated sugar
2 Tbsp coarsely chopped cilantro
1 clove minced garlic
½ tsp salt
black pepper to taste
Shuck and wash the corn. Over high heat bring a large pot of water to a boil. Add the corn to the pot, cover, and bring it back up to a boil. Once the water returns to a boil immediately remove the corn from the pot so that it doesn't over-cook. Cool and then cut the corn off of the cob with a sharp knife.
While the corn is cooking and cooling, prepare the remainder of the ingredients. To save on time I recommend using a mandolin to julienne the kohlrabi and slice the radishes. Be sure to wear gloves and avoid touching your eyes when handling a jalapeño pepper. In a large bowl toss together all of the salad ingredients except for the cojita cheese.
In a small bowl whisk together the dressing ingredients.
Gently fold the cold corn into the large bowl of tossed salad ingredient and drizzle all of the dressing over top. For the final touch sprinkle the salad with grated cojita cheese. Chill for one hour before serving.
Recipe by
Simple Seasonal
at https://simpleseasonal.com/recipes/kohlrabi-and-corn-salad