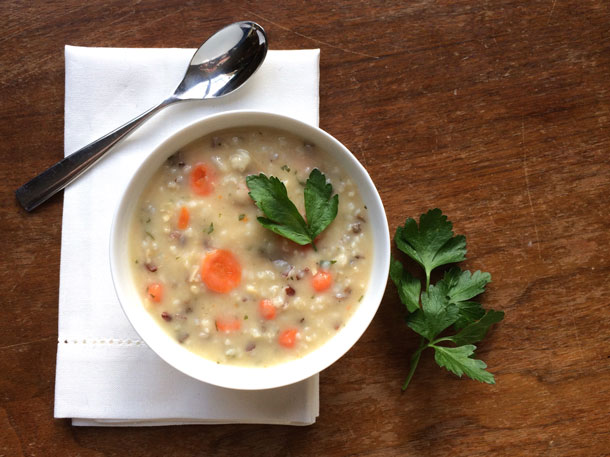 Cream of Turkey and Wild Rice Soup
Author: Rachel Hanawalt
Prep time: 30 mins
Cook time: 4 hours
Total time: 4 hours 30 mins
A true comfort food, this warming and delicious homemade soup is a great, all-natural way to use up that wonderful leftover Thanksgiving turkey!
12 C turkey bone broth (or store-bought if you're a busy cook)
2 C water
2 C chopped turkey
2 C wild rice
1.5 C carrots cut into coins
1 C celery coarsely chopped
1 C sweet Vidalia onion coarsely chopped
¾ C flour (if cooking gluten free, use potato flour)
3 Tbsp butter
2 Tbsp chopped fresh or dry parsley
1 tsp salt
pepper to taste
(Faster) Bone Broth
Place all of the bones from a leftover turkey into a large stockpot
Fill with water up to 2 inches from the top, then simmer for 2-3 hours (be sure not to boil or you will get cloudy broth), adding water as needed if the water level gets low
Turn off the burner and allow the pot to come to room temperature
Place the entire pot in the refrigerator with the lid on, bones still in, for 24-36 hours. The broth will become gelatinous when it cools.
When ready to use, heat the pot on the stove until the contents becomes liquid again
Strain the juices through a fine mesh colander, removing the bones. The broth is now ready to use.
Cream of Turkey and Wild Rice Soup
Chop the celery and onions, then sauté at the bottom of a large stock pot with 3 Tbsp of butter for approximately 3 minutes on medium heat. Be sure not to overcook the vegetables, as they will add texture to the soup.
Pour the flour into the pot and mix with the buttery vegetables. Stir frequently, for about 3 minutes, allowing the flour to have some time to cook.
Begin adding the broth, 1 cup at a time for the first 4 cups. After adding each cup, stir frequently until well combined with the flour before adding the next cup
Turn the burner to medium-high heat. Add the remainder of the broth and water, then bring it to a gentle boil.
Add the rice and carrots to the pot. When the soup returns to a boil, turn the heat to medium-low and simmer for 15-20 minutes, or until the rice is cooked and the carrots are fork-tender.
Stir in the turkey, parsley, salt, and pepper to taste, and then your soup is ready to serve.
Recipe by
Simple Seasonal
at https://simpleseasonal.com/recipes/meal-types/soups/cream-turkey-wild-rice-soup