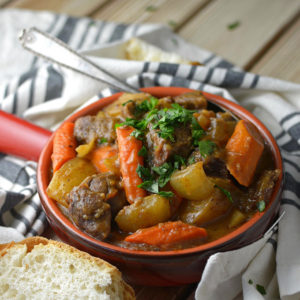 Slow Cooker Beef and Vegetable Stew
Author: Rachel Hanawalt
Prep time: 30 mins
Cook time: 8 hours
Total time: 8 hours 30 mins
Fill your home with the inviting smell of a warm, savory stew all day long - without the hassle of watching it all day long!
1½ lbs cubed beef chuck
¼ C flour, plus more for coating beef
2 Tbsp olive oil
1 lb cubed young yukon potatoes
1 8 oz box sliced button mushrooms (optional)
6 carrots cut into 1 inch pieces
1 coarsely chopped medium sweet onion
2 Tbsp tomato paste
2½ C beef broth
½ tsp paprika
¼ tsp dried thyme
¼ tsp garlic powder
⅛ tsp black pepper
salt to taste (1/2 tsp)
Add the potatoes, mushrooms (optional), carrots, and onion to the slow cooker.
Heat 1 Tbsp of olive oil over medium high heat in a large pan. Coat cubed beef chuck in flour and add to the pan. Cook until the beef is browned on all sides. Using a slotted spoon, add the beef chuck to the slow cooker.
Reduce pan heat down to medium and add 1 Tbsp of oil and ¼ cup of flour to the pan. Cook for about 1 minute and then add the tomato paste and spices. Stir to evenly combine and form a paste. Next, add the beef broth to the pan in intervals, ¼ cup at a time, while stirring to form a thick gravy and avoiding lumps. Once all of the broth has been incorporated, bring to a simmer and then remove from the heat. Add the gravy to the slow cooker and evenly coat the vegetables and beef.
Cook the stew in the slow cooker on low for 8 hours or on high for 4 hours. The stew is finished when the vegetables and beef are tender.
Cut up the vegetables, brown the beef, make the sauce, and assemble in the slow cooker crock. Refrigerate the night before and cook in the slow cooker the next day. This is great way to plan a home-cooked meal for a busy day.
Recipe by
Simple Seasonal
at https://simpleseasonal.com/recipes/slow-cooker-beef-and-vegetable-stew