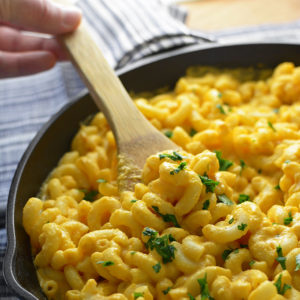 Dairy-Free Butternut Mac 'n Cheese
Author: Rachel Hanawalt
Prep time: 20 mins
Cook time: 30 mins
Total time: 50 mins
Sometimes we adults just need to enjoy some good, old-fashioned kid food. This healthier version of a classic comfort dish will help you feel young without all the grown-up guilt!
1 16 oz box cooked macaroni noodles
1 C raw cashews soaked in water
4 C chopped butternut squash
1 C chopped sweet onion
1 Tbsp olive oil
½ tsp salt
⅛ tsp black pepper
1 large clove minced garlic
2 Tbsp nutritional yeast
1 tsp paprika
⅛ tsp nutmeg
1½-2½ C reserved pasta water
Soak 1 C of raw cashews in water overnight, making sure that they are completely submerged in water.
Combine the chopped butternut squash, sweet onions, and olive oil in an oven-safe pan. Coat completely with the olive oil and season with salt and pepper. Cook in a 425ºF oven, covered, for 30 to 35 minutes. The squash is done cooking once tender and falling apart. Add 1 clove of minced garlic to the pan and stir to combine.
While the butternut squash is cooking, cook the macaroni noodles per the box instructions. Remember to reserve some of the pasta water after cooking.
Next make the butternut cheese sauce. First, drain the cashews and place them into a food processor. Process until smooth. Add the nutritional yeast, paprika, and nutmeg, and blend into the cashews. Intermittently add large spoonfuls of the cooked butternut to the food processor and blend. Do this until all the squash is smoothly incorporated. Next add ½ C of reserved pasta water to the "cheese" sauce until the desired consistency is reached.
Mix the cooked macaroni noodles and butternut "cheese" sauce together. Reheat over the stove top as needed and then serve immediately.
Recipe by
Simple Seasonal
at https://simpleseasonal.com/recipes/meal-types/entrees/dairy-free-butternut-mac-n-cheese