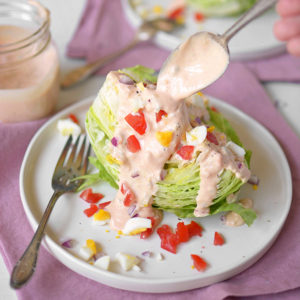 Homemade Thousand Island Dressing
Author: Rachel Hanawalt
Prep time: 10 mins
Total time: 10 mins
Now you can enjoy the fresh, sweet, and tangy flavor of this classic American dressing FREE from all the chemicals and preservatives of the bottled stuff!
¾ C mayonnaise
½ hard boiled egg
¼ C ketchup
3 Tbsp sweet pickle relish
2 tsp minced red onion
1 tsp minced roasted red peppers
1 clove minced garlic
1 Tbsp white vinegar
1 tsp sugar
⅛ tsp salt
3 dashes black pepper
a few drops of hot sauce, or to taste (optional)
Combine all the ingredients together in a bowl. For the hard boiled egg, press it through a fine-mesh sieve so that it is in very tiny pieces. Stir all the ingredients until evenly combined.
Serve the dressing immediately or store in the refrigerator up to 5 days.
To make the wedge salad pictured, cut a head of iceberg lettuce in quarters. Top with homemade Thousand Island dressing and garnish with diced onions, tomatoes and hard boiled eggs.
Recipe by
Simple Seasonal
at https://simpleseasonal.com/uncategorized/homemade-thousand-island-dressing