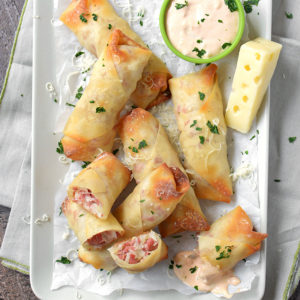 Author: Rachel Hanawalt
Prep time: 15 mins
Cook time: 10 mins
Total time: 25 mins
When the leprechauns are done with their holiday mischief, this fun recipe is a tasty way to use up all that leftover corned beef!
2 C chopped leftover cooked corned beef
1 C strained and chopped sauerkraut
2 C shredded Swiss cheese
1 package egg roll wraps (you will need 18 total)
2 Tbsp high heat oil (vegetable, canola, or peanut)
Thousand Island dressing or Russian dressing
Preheat oven to 400ºF. Combine the corned beef, sauerkraut, and Swiss cheese in a medium mixing bowl. Be sure to trim any excess fat off of the corned beef.
To fill the egg rolls add ¼ C of filling to the center of the roll, fold in one corner, lightly wet it by dipping your finger in water, and fold over a second and a third corner. Lightly wet the folded corners again, and then roll the egg roll towards the fourth corner to form a roll.
Place each spring roll on a lightly greased baking sheet and lightly brush each one with vegetable oil. Bake in a 400º F oven for 10-12 minutes, or until golden brown. Best served immediately with Russian or Thousand Island dressing.
Makes 16 egg rolls total. 2 egg rolls is the recommended serving size. Nutrition information does not include the dressing as part of the calculation, as this will vary with brand.
Recipe by
Simple Seasonal
at https://simpleseasonal.com/recipes/baked-reuben-egg-rolls