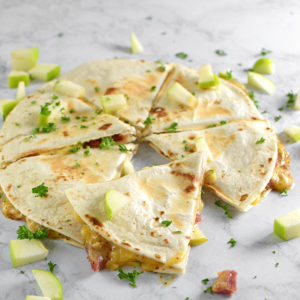 Honey Ham, Gouda and Apple Quesadillas
Author: Rachel Hanawalt
Prep time: 10 mins
Cook time: 15 mins
Total time: 25 mins
Trying to figure out what to do with that leftover ham? Turn it into a quick, easy, and delicious appetizer with this fun spring recipe!
1 C diced leftover honey ham
2 C shredded Gouda cheese
2 thinly sliced Granny Smith apples
3 Tbsp Dijon mustard
2 Tbsp honey
8 flour tortillas
Prep the ham, Gouda and Granny Smith apples.
In a small bowl, mix together the Dijon and honey until evenly combined to make honey mustard.
Spread the homemade honey mustard on a tortilla and then place it mustard side up in a lightly oiled quesadilla maker or in a pan over medium heat. Quickly arrange the Gouda cheese, ham and apples on the quesadilla and top with another tortilla. If cooking in a quesadilla maker, clip the machine closed and open and remove when the "done" light turns on. If cooking on a stove top, place a cast iron skillet on top of the quesadilla, cook for two minutes, flip, and cook for another two minutes while the quesadilla is still being pressed by the cast iron pan.
Allow the quesadilla to cool for a few minutes before cutting and serving. Repeat the above directions four times to make four quesadillas.
Recipe by
Simple Seasonal
at https://simpleseasonal.com/recipes/honey-ham-gouda-apple-quesadillas