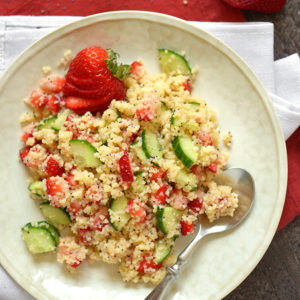 Strawberry Poppy Seed Couscous Salad
Author: Rachel Hanawalt
Prep time: 15 mins
Cook time: 5 mins
Total time: 20 mins
Strawberry Poppy Seed Couscous Salad
1 C dry couscous
1¼ C water
1 Tbsp olive oil
½ tsp salt
1 C chopped strawberries
1 C chopped cucumber
Strawberry Poppy Seed Vinaigrette
¼ C canola oil
2 Tbsp honey or agave
2 Tbsp red wine vinegar
½ tsp dijon mustard
1¼ tsp poppy seeds
½ tsp salt
fresh cracked black pepper to taste
Cook and chill the couscous. To cook the couscous, bring the water to a boil with the olive oil and salt. Once boiling, stir in the dry coucous. Return to a boil and then immediately remove the pot from the heat. Cover and let rest for 5 minutes. After 5 minutes have passed, fluff the coucous with a fork and chill for at least 1 hour.
While the couscous is chilling, chop the strawberries and cucumber and set aside.
Make the vinaigrette by whisking together all of the ingredients and set aside until the coucous is chilled.
Assemble the salad by folding together the couscous, strawberries, cucumbers and vinaigrette.
If you plan on making this salad ahead of time, it's best if the strawberries are added in just before serving.
Recipe by
Simple Seasonal
at https://simpleseasonal.com/recipes/strawberry-poppy-seed-couscous-salad