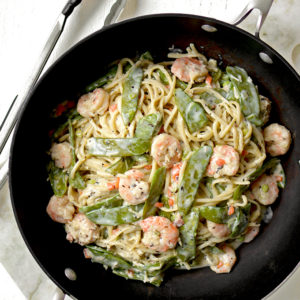 One-Pot Shrimp and Snow Pea Alfredo Pasta
Author: Rachel Hanawalt
Prep time: 10 mins
Cook time: 25 mins
Total time: 35 mins
Comfort food meets fresh spring veggies in this simple, creamy, and delicious Italian dinner.
4 slices uncured bacon
¼ C finely chopped sweet onion
⅓ C finely chopped carrots
1 Tbsp dried basil
3 cloves minced garlic
1 Tbsp flour
2½ C low sodium chicken broth
8 oz dried linguine
1 lb frozen shrimp, unthawed
½-3/4 lb stringed snow peas
1 C half and half
½ tsp salt
¼ tsp black pepper
½ C grated parmesan cheese
In a pot or a large pan cook 4 slices of bacon over medium heat until they are crispy. Remove the bacon from the pot, cool, break into small bits and set aside on a paper towel for later use as a garnish. Add the chopped onions and carrots to the pot and cook in the bacon drippings for 3 minutes. Next, add the basil and garlic and cook for one minute.
To start the base for the Alfredo sauce add 1 Tbsp of flour to the pot with the cooked vegetables. Stir the flour into the bacon drippings and cook for one minute. Slowly add the chicken broth to the pot, ¼ C at a time, while continually stirring so that the flour and broth become evenly incorporated.
Add the linguine, shrimp and sugar snap peas to the pot. Cook on high heat until the it reaches a full boil and then reduce to a hard simmer. Cook for 11-14 minutes, stirring frequently. Note that the pasta will cook best if you push it to the bottom of pot and the shrimp and snow peas to the top so that the pasta is in the most liquid. If the pasta begins to stick, or if the pan seems dry, add additional chicken broth, ¼ cup at a time.
Once the pasta is done cooking, turn the heat on low and stir in the half and half, salt and pepper. Heat the half and half over low heat, making sure to not allow it to start bubbling. Once heated, garnish with freshly grated parmesan cheese and the bacon you set aside earlier. Serve immediately.
Recipe by
Simple Seasonal
at https://simpleseasonal.com/recipes/one-pot-shrimp-and-snow-pea-alfredo-pasta