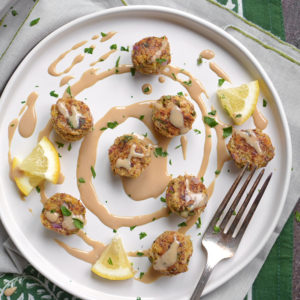 Baked Falafel Balls with Flax and Tahini Dressing
Author: Rachel Hanawalt
Prep time: 15 mins
Cook time: 17 mins
Total time: 32 mins
When the early summer greens are in abundance, this healthy, flavorful recipe pairs well and provides a yummy crunch.
Falafel Balls
¼ C ground flax plus ¼ C water
1 15.5 oz can drained and rinsed chickpeas
½ C roughly chopped red onion
¼ C lightly packed fresh minced parsley
3 Tbsp fresh squeezed lemon Juice
3 large cloves minced garlic
½ tsp cumin
½ tsp salt
3 Tbsp olive oil
Tahini Dressing
⅓ C tahini
4 Tbsp fresh lemon juice
1 Tbsp soy sauce
1 Tbsp water
2 Tbsp honey or agave
1 clove minced garlic
Mix the ground flax with water and set aside. Mash the chickpeas (I recommend using a potato masher) so that they are mostly smooth, but a few larger pieces of chickpeas remain.
Mix in the red onion, parsley, lemon juice, garlic cumin and salt.
Scoop the falafel mix into ½ Tbsp sized balls and arrange them on a baking sheet. You will end up with approximately 35 falafel balls. Bake in 425º F oven for 10-12 minutes on the first side and then flip for 3-5 minutes on the second side.
While the falafel balls are baking, whisk together Tahini Dressing Ingredients. Once the falafel balls are done baking serve them immediately with the dressing as an appetizer or add them to a salad or a pita.
Recipe by
Simple Seasonal
at https://simpleseasonal.com/recipes/baked-falafel-balls-flax-tahini-sauce