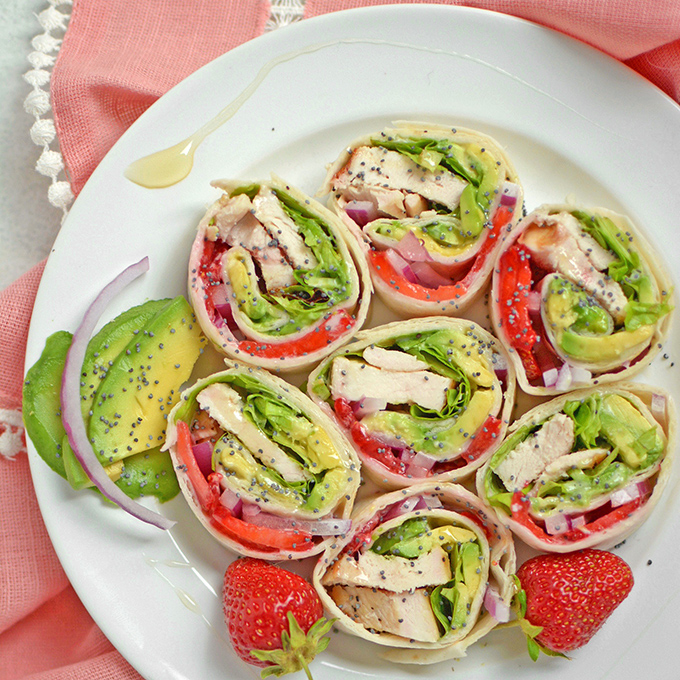 Strawberry Chicken Pinwheel Sandwiches
Author: Rachel Hanawalt
Prep time: 15 mins
Cook time: 8 mins
Total time: 23 mins
This fun, healthy, and satisfying meal brings together the flavors of summer in a beautiful way!
Grilled Chicken
2 boneless, skinless chicken breasts
1 Tbsp olive oil
salt and pepper to taste
Sweet Poppy Seed Dressing
4 Tbsp mayo
1 Tbsp honey
½ tsp red wine vinegar
½ tsp poppy seeds
Wraps
4 tortilla wraps*
1 C thinly sliced strawberries
1 avocado thinly sliced
¼ C thinly sliced red onion
leaf lettuce
Trim any excess fat off of the chicken breast, and then coat with olive oil and season with salt and pepper to taste. Grill over direct medium heat until the meat is no longer pink and the juices run clear.
While the chicken is grilling, whisk together the dressing ingredients and set aside. Also prep the strawberry and avocado slices as well as the red onion.
To make the wraps, start with lightly spreading one side of each wrap with the sweet poppy seed dressing. Next arrange a thin layer of the strawberries, chicken, avocado slices, and lettuce across the wrap. Lightly sprinkle with red onion. Roll up into a wrap, so that the tortilla makes a cylindrical shape. Cut the wrap into three-quarter-inch slices to make a pinwheel shape. Serve immediately.
*Pinwheels work best when you purchase the largest, softest tortillas you can find.
Recipe by
Simple Seasonal
at https://simpleseasonal.com/recipes/strawberry-chicken-pinwheel-sandwiches