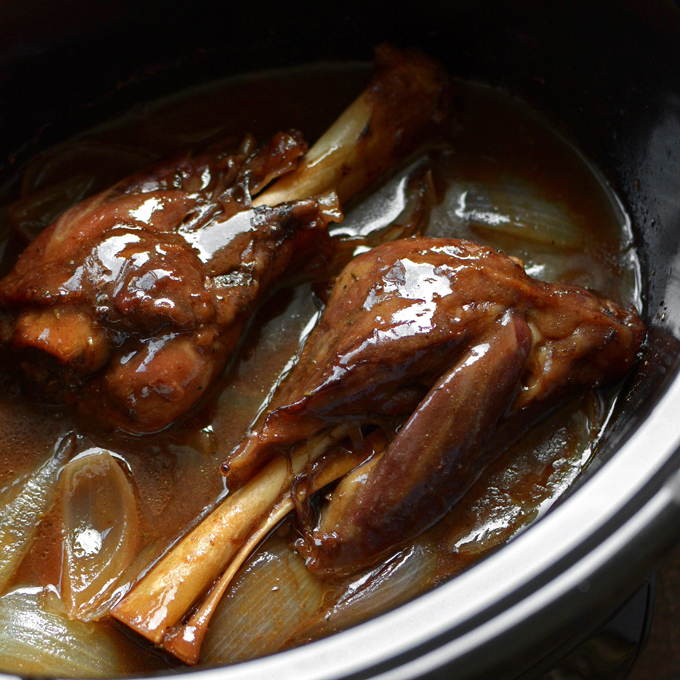 Slow Cooker Honey Balsamic Lamb Shanks
Author: Rachel Hanawalt
Prep time: 5 mins
Cook time: 4 hours
Total time: 4 hours 5 mins
Create a delicious, complex, and sophisticated meal with just five minutes of prep time. Seriously!
2 Tbsp flour
⅛ tsp cumin
⅛ tsp rosemary
⅛ tsp thyme
2 dashes of cinnamon
¼ tsp salt
1 C chicken broth
½ C red wine
¼ C balsamic vinegar
1 Tbsp honey
2-4 small lamb shanks
1 sweet yellow onion cut into sixths
In a cold slow cooker whisk together the flour, spices, red wine, balsamic vinegar, chicken broth and honey.
Next, arrange the lamb shanks and onions at the bottom of the slow cooker. There will be enough sauce in the slow cooker to make 2-4 lamb shanks.
Cover and cook on high for 4-5 hours. The lamb is done cooking when it's falling off the bone and is fork tender. Serve hot.
Recipe by
Simple Seasonal
at https://simpleseasonal.com/recipes/meal-types/entrees/slow-cooker-honey-balsamic-lamb-shanks