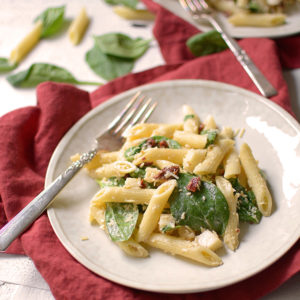 Smoked Mozzarella and Spinach Pasta Salad
Author: Rachel Hanawalt
Prep time: 20 mins
Cook time: 12 mins
Total time: 32 mins
Bring something new and different to your summer holiday picnics with this cheesy, zesty, and smoky pasta salad that's sure to be a crowd pleaser!
Salad
1 lb box penne pasta
5 oz baby spinach*
½ C sun-dried tomatoes, finely chopped
1 C smoked mozzarella cut into small cubes
1 C shredded fresh parmesan cheese
Dressing
¾ C mayo
½ Tbsp champagne wine or white wine vinegar
2 cloves minced garlic
2 pinches cayenne pepper
⅛ tsp salt
½ tsp sugar
⅛ tsp black pepper
2 Tbsp milk
Cook 1 box of penne per the package directions. As far as cook time goes for this salad, I cook it between the "cooking time" and the "al dente" package recommendations. For the best pasta, I bring my water to a boil and then add about 1 Tbsp of salt to the pot before adding the pasta. Once the pasta is cooked, drain it and rinse it with cold running water.
While the pasta is cooking, whisk together the dressing ingredients in a large mixing bowl until smooth.
Add the cooked pasta, baby spinach, sun-dried tomatoes, smoked mozzarella, and parmesan to the bowl. Fold the ingredients together until they are evenly coated in dressing. Chill before serving.
*5 oz of baby spinach is the typical size of a prewashed bag sold at the grocery store.
Recipe by
Simple Seasonal
at https://simpleseasonal.com/recipes/smoked-mozzarella-and-spinach-pasta-salad