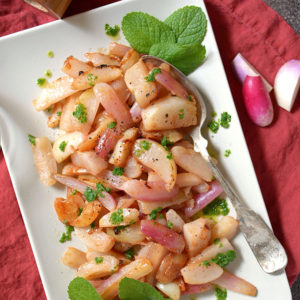 Butter-Braised Radishes and Turnips
Author: Rachel Hanawalt
Prep time: 10 mins
Cook time: 20 mins
Total time: 30 mins
Faced with an abundance of summer radishes? This smart side dish transforms them into a sweet and savory delight!
Butter-Braised Radishes and Turnips
½ lb radishes cut into quarters
1 lb turnips cut to the same size as the radishes
2 Tbsp butter
about 1 C vegetable or chicken broth
¼ tsp salt
fresh cracked pepper to taste
Mint Oil
¼ C mint
¼ C extra virgin olive oil
salt
pepper
ice bath
Melt the butter in a sauce pan and add the radishes and turnips. Add vegetable broth to the pan until the vegetables are halfway submerged. Cover and cook over medium-high heat until the vegetables are just starting to become tender (about 15 minutes). Remove the lid and continue cooking until most of the liquid is cooked down and the vegetables become shiny and glazed.
Meanwhile, bring a small pot of water to a boil. Add the mint leaves to the boiling water and blanch for 10 seconds. Then add them to an ice bath. Next, dab the mint leaves dry and blend them with olive oil in a food processor or with an immersion blender until the mint is finely chopped.
Serve with the mint oil drizzled over the butter-braised radishes and turnips.
Recipe by
Simple Seasonal
at https://simpleseasonal.com/recipes/butter-braised-radishes-and-turnips