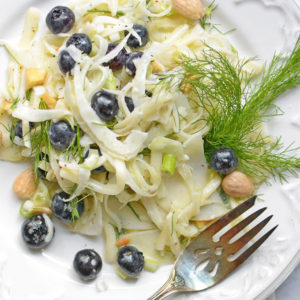 Fennel, Kohlrabi and Blueberry Salad
Author: Rachel Hanawalt
Prep time: 15 mins
Total time: 15 mins
You don't have to be a snob to enjoy this delicately complex and crunchy salad that utilizes a sometimes baffling summer vegetable.
Salad
1 C thinly sliced fennel bulb
1 C peeled, thinly sliced kohlrabi bulb
1 C blueberries
¼ C finely chopped green onion
½ C fresco (i.e., not aged) asiago cheese, chopped
¼ C chopped marcona almonds
Honey Lemon Dressing
2 Tbsp vegetable oil
2 Tbsp mayonnaise
2 Tbsp lemon
1 Tbsp honey
⅛ tsp celery seed
⅛ tsp salt
freshly ground pepper to taste
fennel fronds for garnish
Using a mandoline slicer, thinly slice a cup each of fennel and kohlrabi. Combine in a large bowl with the remainder of the salad ingredients and set aside.
In a small bowl whisk together the dressing ingredients.
Pour the dressing over the salad in the large bowl. Toss the salad in order to coat evenly with the dressing. Garnish with fennel fronds as desired. Serve immediately.
Recipe by
Simple Seasonal
at https://simpleseasonal.com/recipes/fennel-kohlrabi-and-blueberry-salad