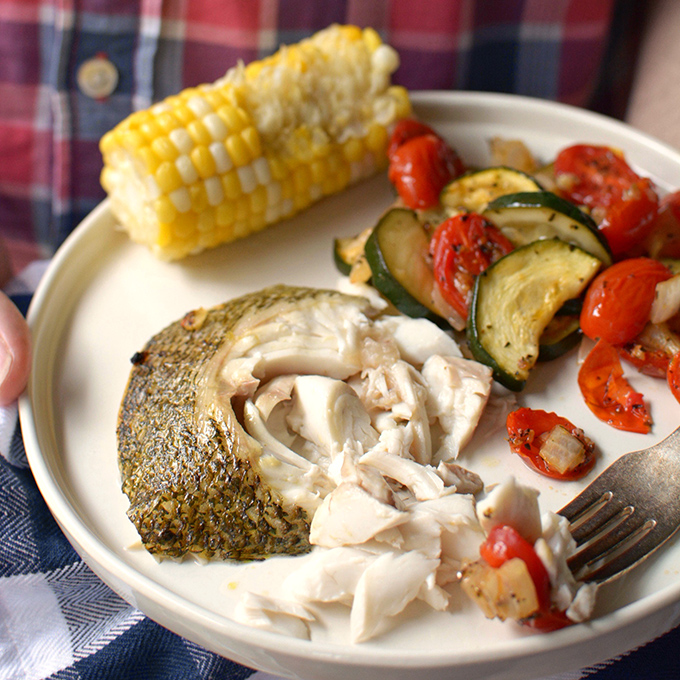 Roasted Bass and Summer Vegetables
Author: Rachel Hanawalt
Prep time: 25 mins
Cook time: 25 mins
Total time: 50 mins
Fishermen (or fisherwomen) in your household? This recipe will have you prepared for that golden opportunity of a fresh catch!
Fish and Marinade
1 black bass (smallmouth or largemouth)
1 Tbsp olive oil
1 Tbsp white wine vinegar
½ tsp salt
Summer Garden Vegetables
1½ C chopped zucchini
1½ C halved grape tomatoes
1 C diced yellow onion
3 cloves minced garlic
1 Tbsp olive oil
3 splashes white wine vinegar
1½ tsp dried basil
½ tsp salt
¼ tsp black pepper
Preheat oven to 500ºF.
For the bass, gut and descale as needed. Cut 3-4 slits into both sides of the bass and place it on a baking sheet that has been lined with parchment paper.
Whisk together the olive oil, white wine vinegar, and salt. Using a basting brush, coat the fish inside and out with the marinade, taking care to also baste inside the slits.
Prep the vegetables and mix them together in a ziplock bag with the olive oil, white wine vinegar, basil, salt, and pepper. Next, arrange them around the fish with the tomatoes seed side up and the zucchini flat on the pan.
Cook in a 500ºF oven for 15-25 minutes or until the thickest part of the fish reaches an internal temperature of 135ºF. The cooking time will vary depending on the size of your fish. It should also be said that it's important to be sure to never overcook any fish of any kind!
Recipe by
Simple Seasonal
at https://simpleseasonal.com/recipes/roasted-bass-and-summer-vegetables