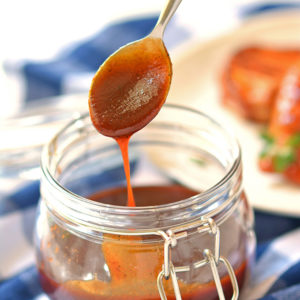 Homemade Sweet Chipotle BBQ Sauce
Author: Rachel Hanawalt
Prep time: 5 mins
Cook time: 15 mins
Total time: 20 mins
When the store-bought stuff just doesn't cut it, this simple DIY recipe will guide you to the best-ever BBQ sauce!
1 C apple juice
¾ C all-natural ketchup
3 Tbsp apple cider vinegar
1 Tbsp low-sodium soy sauce
4 Tbsp honey
2 tsp molasses
⅛-3/4 tsp chipotle chili powder*
1 Tbsp chili powder
½ tsp garlic powder
½ tsp dry mustard
¼ tsp salt
¼ tsp black pepper
Combine all of the ingredients together in an uncoated saucepan. Whisk the ingredients together and bring them to a boil over medium-high heat.
Reduce the heat to medium and simmer the sauce until it is reduced by half. When you're finished this recipe makes about 1 C of sauce. Use immediately or cool completely and store in the refrigerator for up to two weeks or freeze and store for up to 4 months.
Recipe by
Simple Seasonal
at https://simpleseasonal.com/recipes/homemade-sweet-chipotle-bbq-sauce