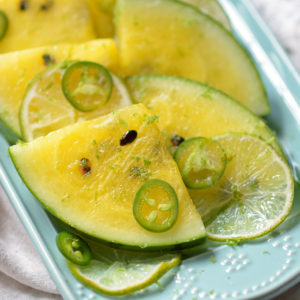 Tipsy Tequila Yellow Watermelon Wedges
Author: Rachel Hanawalt
Prep time: 15 mins
Total time: 15 mins
Celebrate the waning days of summer with this boozy, crunchy, kicked-up appetizer featuring seasonal produce and a festive spirit!
1 4-5 lb yellow watermelon cut into wedges
½ C tequila
¼ C triple sec
1 tsp light agave
1 jalapeño thinly sliced and seeded
1 lime thinly sliced
⅛ tsp finely ground sea salt
Zest of 1 lime for garnish
Arrange the thinly sliced jalapeños and limes in a 9x13 dish and pour the tequila, triple sec, and agave over them. Gently stir to combine the flavors.
Add the yellow watermelon to the dish and coat with the alcohol, jalapeños and limes. Cover with plastic wrap and marinate in the refridgerator for about 30 minutes to an hour before serving.
To serve, arrange the jalapeños and limes around the watermelon as a garnish. Also garnish with sea salt and lime zest. Serve immediately.
Recipe by
Simple Seasonal
at https://simpleseasonal.com/recipes/meal-types/beverages/tipsy-tequila-yellow-watermelon-wedges