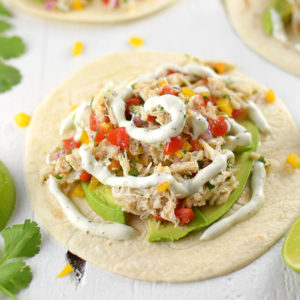 No Cook Cilantro Lime Crab Tacos
Cuisine:
Mexican-American
Author: Rachel Hanawalt
Prep time: 20 mins
Total time: 20 mins
Delicious crab meat with a kicked up blend of spices is the perfect way to usher in the fall season. Best of all, there's no cooking involved!
Crab Salad
⅓ C fresh lime juice
2 Tbsp olive oil
¼ tsp chipotle chili powder*
⅛ tsp black pepper
¼ cup finely chopped cilantro
16 oz lump crab meat
½ C diced and drained fresh tomatoes
⅓ C finely chopped red onion
⅓ C finely chopped sweet yellow pepper
Honey Cilantro Sour Cream
1 C sour cream
2 Tbsp honey
1 Tbsp minced cilantro
Extras
1 thinly sliced haas avocado
8 soft taco shells
Start by making the crab salad. In a large bowl whisk together lime juice, olive oil, chipotle chili powder, black pepper and cilantro until the dressing is evenly combined. Next fold in crab meat, tomatoes, red onion, and yellow pepper. Set the salad aside.
To make the honey cilantro sour cream mix together sour cream, honey, and cilantro until evenly combined and then set aside.
Finally, assemble the crab tacos by arranging avocados and then the crab salad on a tortilla shell. Finish by drizzling with honey cilantro sour cream. Serve immediately. This recipes makes enough for four people to have two crab tacos each.
*For a milder option, substitute with ½ tsp regular chili powder.
Recipe by
Simple Seasonal
at https://simpleseasonal.com/recipes/no-cook-cilantro-lime-crab-tacos