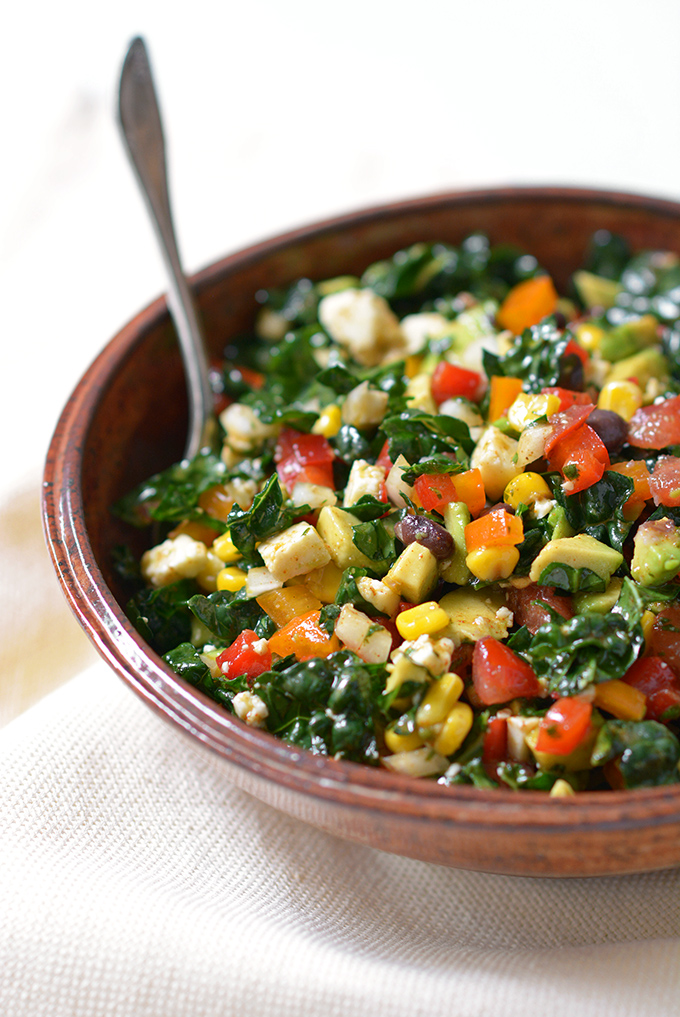 Fiesta Chopped Chipotle Kale Salad
Author: Rachel Hanawalt
Prep time: 20 mins
Total time: 20 mins
Fiesta Chopped Kale Salad
3 C chopped lacinato (a.k.a. "dinosaur") kale
1 C fresh or frozen sweet corn
⅔ C canned black beans that have been drained and rinsed
½ C diced and seeded red tomato
½ C finely diced sweet yellow onion
½ C chopped queso fresco*
1 finely diced red pepper
1 finely diced orange pepper
2 finely chopped avocados
Chipotle Chili Cilantro Lime Dressing
⅓ C olive oil
¼ C fresh lime juice
1½ Tbsp honey
3 Tbsp fresh minced cilantro
1 tsp chipotle chili powder
⅛ tsp garlic powder
¼ tsp salt
Chop all of the vegetables and add them to a large bowl with the sweet corn, black beans, and queso fresco.
Whisk together the dressing ingredients.
Pour the dressing over the salad and toss the salad and dressing together to evenly combine. Serve immediately.
*If you can't find queso fresco, a Mexican soft cheese, then substitute with shredded colby jack.
Recipe by
Simple Seasonal
at https://simpleseasonal.com/recipes/fiesta-chopped-chipotle-kale-salad