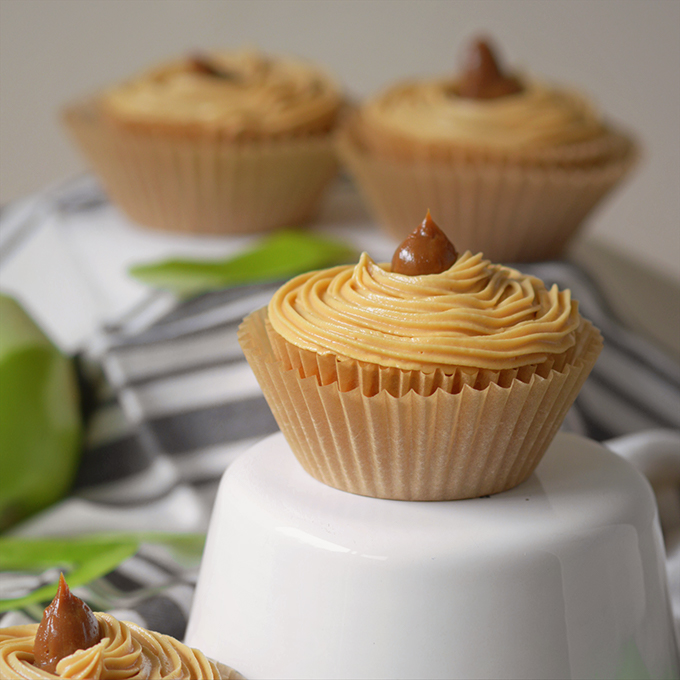 Apple Cinnamon Dulce de Leche Cupcakes
Author: Rachel Hanawalt
Prep time: 1 hour
Cook time: 20 mins
Total time: 1 hour 20 mins
Join Simple Seasonal as we celebrate our 3rd Blogiversary with these devilishly sweet cupcakes just bursting with caramel flavor!
Cupcakes
⅔ C softened butter (10½ Tbsp)
1½ C sugar
½ C dulce de leche
2 eggs beaten
1½ tsp vanilla
2¾ C flour
2½ tsp baking powder
2 tsp cinnamon
1 tsp salt
1¼ C milk
2 C Granny Smith apples, diced small
Cinnamon sugar for topping
Dulce de Leche Frosting
½ lb softened butter (2 sticks)
1 C dulce de leche
1 tsp vanilla
⅛ tsp salt
2 Tbsp heavy whipping cream
5-6 C sifted confectioners sugar
4 Tbsp sifted flour
Apple Cinnamon Dulce de Leche Cupcakes
Cream together the butter, sugar, dulce de leche, eggs, and vanilla.
Mix together the flour, baking powder, cinnamon, and salt in a separate bowl.
Alternating back and forth, add both the milk and the flour mixture to the creamed butter and sugar.
Peel and dice the apples and then fold them into the batter.
Add cupcake liners to a muffin tin and fill three quarters of the way full with batter. I find that an ice cream scoop works well for this.
Bake in a 350º F oven for 20-25 minutes. The muffins are done when they are beginning to turn golden brown and an inserted toothpick comes out clean. Cool on a baker's rack.
Dulce de Leche Frosting
Using an electric mixer, cream together the butter and the dulce de leche until smooth and fluffy.
Add vanilla, salt, and whipping cream to the bowl and beat for another minute.
Add 5 cups of confectioners sugar and 4 Tbsp of flour to the bowl intermittently. Gently beat the sugar into the butter and dulce de leche mixture, so that the sugar doesn't fly out of the bowl.
After all of the confectioners sugar and flour are incorporated, beat the frosting for at least 10 minutes so that it becomes fluffy. If you would like your frosting thicker, add a 6th cup of confectioners sugar as needed.
Recipe by
Simple Seasonal
at https://simpleseasonal.com/blogging/apple-cinnamon-dulce-de-leche-cupcakes