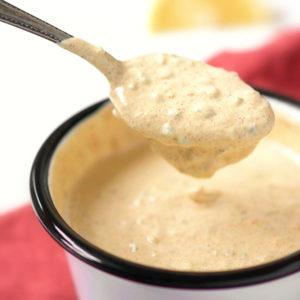 Homemade Cajun Remoulade Sauce
Author: Rachel Hanawalt
Prep time: 10 mins
Total time: 10 mins
Turn up the heat at your next party with this creamy, zesty, kicked-up Cajun-style sauce!
1 C mayo*
3 Tbsp Creole mustard or coarse grain dijon mustard
2 tsp spicy or extra hot prepared horseradish
2 Tbsp lemon juice
1 tsp Worcestershire sauce
3 tsp Creole seasoning
¼ tsp paprika
2 cloves minced garlic (about 1 tsp)
2 minced green onions (about 2 Tbsp)
4 tsp minced capers
cayenne pepper to taste
In a small mixing bowl mix together all of the ingredients until evenly combined. If you like your remoulade sauce extra spicy you can add cayenne pepper to taste.
Serve immediately or store covered in the refrigerator for up to one week.
*To make dairy-free and/or vegan, substitute regular mayo with a dairy-free and/or egg-free alternative.
Recipe by
Simple Seasonal
at https://simpleseasonal.com/recipes/homemade-cajun-remoulade-sauce