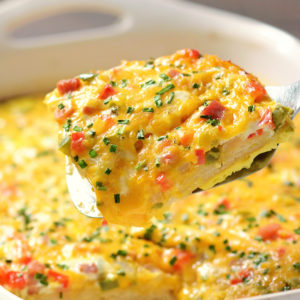 Loaded Baked Denver Omelet Casserole
Author: Rachel Hanawalt
Prep time: 20 mins
Cook time: 30 mins
Total time: 50 mins
Whether you're on your way to a potluck or just feeding a table full of hungry teenagers, this fun, cheesy, family-friendly dish is sure to be a hit!
1 8 oz roll of organic crescent roll dough
1 Tbsp butter
1 finely diced large red pepper
1 finely diced green pepper
1 C finely chopped sweet onion
1 C chopped ham
10 eggs
¼ C half and half
¼ tsp salt
⅛ tsp black pepper
2 C shredded cheddar cheese
¼ C finely chopped chives
Preheat oven to 375º F. Also prep your ingredients by dicing and chopping the peppers, onions, chives, and ham. Shred the cheese. In a large bowl whisk together the eggs, half and half, salt, and black pepper. Set all of your ingredients aside for later use.
Lightly grease the sides of a 9"x13" baking dish with butter. Using one 8 oz can of organic crescent roll dough from the refrigerator section of the grocery store, line the bottom of the dish with the unrolled dough in order to create a crust. Bake for 11 to 13 minutes, or until the crescent rolls are just beginning to turn golden brown.
Meanwhile, over medium heat sauté the peppers and onions in 1 Tbsp of butter for three minutes. Next add the ham to the pan and sauté for another three minutes. Remove from the heat and set aside.
Once the crescent rolls are done baking, assemble the dish by layering the crescent rolls, the peppers, onions, and ham and then the cheese. Pour the egg mixture over top and gently shake the dish until the eggs are evenly dispersed. Top with the chopped chives.
Bake in a 375º F oven for 27-32 minutes, or until the eggs are cooked through and the omelet is just starting to pull away from the side of the dish. Serve immediately.
An avocado garnish makes a tasty addition to this recipe.
Recipe by
Simple Seasonal
at https://simpleseasonal.com/recipes/loaded-baked-denver-omelet-casserole