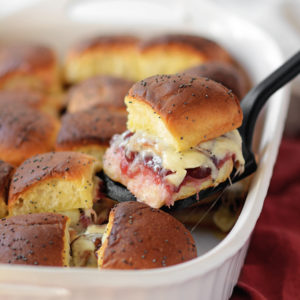 Cheesy Cranberry Bacon and Turkey Sliders
Author: Rachel Hanawalt
Prep time: 10 mins
Cook time: 20 mins
Total time: 30 mins
These festive and flavorful little sliders are the perfect party food for your holiday potluck - and also a great way to use up those leftovers!
16 dinner rolls or slider buns*
1¼ C cranberry sauce or cranberry jelly
2 C sliced leftover turkey or deli meat turkey
8 pieces cooked bacon
7 slices havarti cheese
4 Tbsp butter
½ tsp poppy seeds
Preheat oven to 350º F.
Arrange the bottom halves of 16 slider buns on the bottom of a 9x13 casserole dish. If some of them are stuck together, I find that they come out of the pan more easily when you're ready to serve if you pull them apart ahead of time.
Next, arrange the layers of the sliders. First the cranberry, next the turkey, then the bacon, and finally the havarti cheese.
Place the bun tops onto each slider. Melt the butter in the microwave on 50% power for 1 minute, adding 15 second increments as needed until completely melted. Stir the poppy seeds into the melted butter and then evenly spread the poppy seed butter over all of the slider bun tops until the mixture is used up.
Bake in a 350º F oven for 20 to 25 minutes. The sliders are done when the cheese is melted and the centers of the sandwiches are hot. Serve immediately.
*I used leftover King's Hawaiian Dinner Rolls. They were good in this recipe, as their sweetness added a nice touch. You can buy fresh rolls, but this is also a great way to use up leftovers from your holiday dinner.
**One serving is two sliders.
Recipe by
Simple Seasonal
at https://simpleseasonal.com/recipes/meat-eggs-dairy/cheese/cheesy-cranberry-bacon-and-turkey-sliders