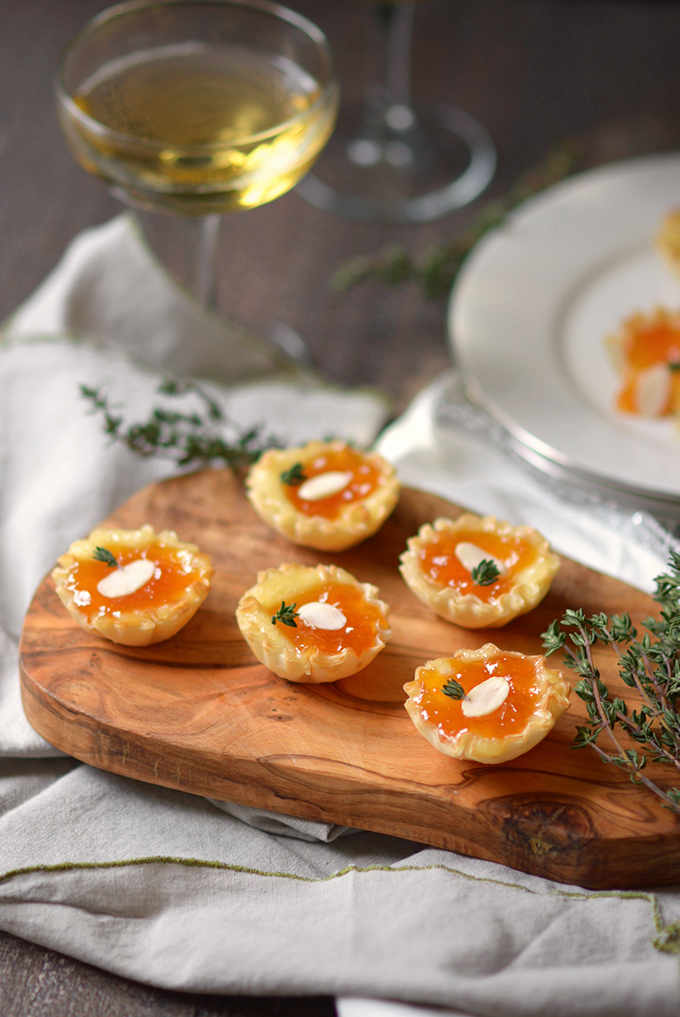 Almond Apricot and Brie Phyllo Cups
Author: Rachel Hanawalt
Prep time: 10 mins
Cook time: 7 mins
Total time: 17 mins
Wow your holiday party guests with these perfectly balanced, perfectly delicious, and ever so easy to make little appetizers!
1 15 count package of mini phyllo cups*
¾ lb triple cream brie cheese
⅓ C apricot jam
15 untoasted almond slices
15 small sprigs of fresh thyme**
Preheat oven to 350ºF.
Arrange the phyllo cups on a baking sheet.
Fill each phyllo cup with about 1 tsp of brie cheese and then ½ tsp of apricot jam. Next, top each phyllo cup with 1 sliced almond.
Bake for 6-7 minutes, or until the brie is melted and the appetizer is heated through.
Garnish each phyllo cup with a small sprig of fresh thyme.
*I used Athens brand.
**The thyme isn't just for garnish. It adds an extra layer of flavor to this recipe, so I don't recommend skipping it.
Recipe by
Simple Seasonal
at https://simpleseasonal.com/recipes/almond-apricot-and-brie-phyllo-cups