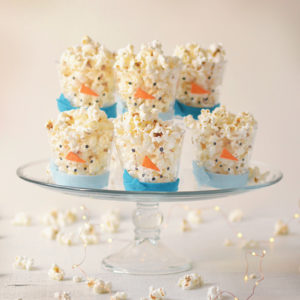 Author: Rachel Hanawalt
Prep time: 1 hour
Total time: 1 hour
Help the kiddies celebrate the magic of the holiday season with these festive and whimsical little craft-snack combos!
1 25-count pack of Chinet 9 oz. Cut Crystal Cups
2 pieces of 8x12 felt*
1 piece of 8x12 adhesive orange foam*
1 black sharpie marker
Hot glue gun and glue sticks
14 ounces of popped popcorn**
Cut the felt into 25½ inch thick strips along the narrower side of the felt, so that each strip is 8 inches long. Next, make 4 to 5 little cuts into each end of the felt strips to create the scarf fringe. Apply the scarves to cups by putting one dot of hot glue on bottom outer edge of the cup and center the scarf over it. Next add a couple more dots of glue around the bottom outer edge of the cup and work the scarf around the cup on either side until the two ends come together. Cross one end of the felt over the other and adhere with one last dot of glue. Continue until you have applied scarves to all 25 cups.
To make the carrot noses, cut little triangles out of the orange foam so that they are a little over ½ inch long. Remove the adhesive backing and stick a nose to each cup so that it is off center and right of where the scarf comes together. Continue until each snowman cup has a nose.
Using a black Sharpie Marker, draw two eyes and a smile on each snowman with dots, so that it looks like the snowman's face is made from rocks or coal.
Finally, fill each snowman with a heaping cup of popcorn and serve.
*Both the felt and the foam are inexpensively available by the piece at Michael's Craft Stores. Feel free to select any color you like for the felt scarves.
**1 14 oz family sized bag of popcorn will be enough popcorn for each person to have one heaping cup of popcorn. If you think your snackers might be hungry for seconds, I recommend having more popcorn available.
Recipe by
Simple Seasonal
at https://simpleseasonal.com/playing-with-food/snowman-popcorn-cups