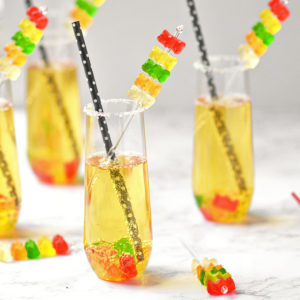 Author: Rachel Hanawalt
Prep time: 25 mins
Total time: 25 mins
Share the fun of a holiday toast with your little ones with this festive and age-appropriate party drink!
8 plastic stemless champagne flutes
8 plastic swizzle sticks
8 fun paper straws
1 toothpick
2 25.4 oz bottles of sparkling apple cider
10 oz of gummy bears*
¼ C granulated sugar
a shallow dish with water
Place one of each color of gummy bears onto 8 plastic swizzle sticks. To do this, first poke the gummy bears, one at a time, all the way through with a toothpick. This will make it so that you can more easily get the swizzle stick through each bear.
Coat each champagne flute's rim with sugar. One at a time, dip the rim of each flute into a shallow dish of water and then into a shallow dish of granulated sugar. Next, drop a small handful of gummy bears at the bottom of each champagne flute. I used two of each color because I like things to be symmetrical. If your party guests are little kids, consider using one of each color (i.e., less sugar in hyper kids).
Pour sparkling apple cider into each flute until it is three quarters of the way full. Garnish with the gummy bear swizzle sticks. Finally, add a fun party straw to each flute. Don skip this step, because I find that straws make kids less likely to spill! Serve immediately.
*Many gummy bears contain gelatin. To make this recipe vegetarian and vegan, Annie's Bunny Fruit Snacks and Surf Sweet Organic Fruity Bears will meet your needs.
**To make this recipe less processed and more healthful, consider purchasing organic sparkling apple cider and organic gummy bears.
Recipe by
Simple Seasonal
at https://simpleseasonal.com/recipes/meal-types/beverages/gummy-bear-mocktails