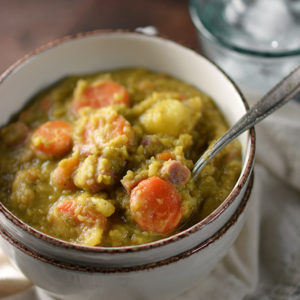 Hearty Split Pea and Ham Soup
Author: Rachel Hanawalt
Prep time: 20 mins
Cook time: 2 hours
Total time: 2 hours 20 mins
Warm yourself up with this flavorful winter soup. It's so good, you may have to keep it a secret in order to enjoy those wonderful leftovers!
3 Tbsp salted butter
2½ C carrots cut into coins
2 C chopped sweet yellow onion
1½ C coarsely chopped celery
3 cloves minced garlic
1 Tbsp dry parsley
¾ tsp salt
½ tsp black pepper
1 hearty or lightly trimmed ham bone (see picture in blog post)*
1 24 oz bag of rinsed and sorted dried green split peas**
9 C water
1½ C peeled and diced yellow potatoes
1½ C diced ham
Melt 3 Tbsp of butter in a stock pot and then add the carrots, onion, and celery and cook for 3 minutes. Next, add the garlic, parsley, and black pepper and cook for 1 more minute. (This step adds a nice sweetness to the vegetables, but if you're making your soup in a slow cooker, just dump the ingredients into the cooker and skip sautéing the vegetables.)
Add the ham bone, split peas, and water to the pot and stir to evenly combine the vegetables and split peas. Cook the soup at a simmer for 2-2½ hours. Stir the soup periodically and scrape the bottom of the pot to prevent burning. The soup can also be cooked in a slow cooker on high heat for 4-5 hours, or on low heat for 8-10 hours. Midway through your cooking time, add the potatoes to the pot so that they don't become too soft. The soup is done when the split peas are soft and breaking apart and the ham is falling off the bone.
The last step is to remove the bone from the pot and any gristle that may have fallen off of it. Stir in 2 C of diced ham, bring back up to a simmer, and then remove the soup from the heat. Serve immediately. Store in the refrigerator for up to 5 days or freeze for up to 3 months.
*The ham bone should be trimmed so that excessive gristle and fat are removed, but a small amount of meat remains on the bone.
**When sorting the dried green split peas, remove any shriveled, brown, or black peas. Some peas will be a little lighter in color than the others and this is fine.
Recipe by
Simple Seasonal
at https://simpleseasonal.com/recipes/hearty-split-pea-and-ham-soup