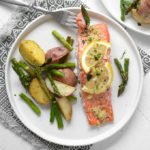 Curried Sheet Pan Pork Tenderloin with Potatoes and Cauliflower
Author: Rachel Hanawalt
Prep time: 30 mins
Cook time: 30 mins
Total time: 1 hour
This delicious sheet pan recipe combines exotic flavors, dead simple preparation, and easy cleanup to create a weeknight culinary masterpiece!
Curried Sheet Pan Recipe
¼ C Tbsp vegetable oil
¼ C fresh squeezed lemon juice
2 Tbsp honey
2½ Tbsp yellow curry powder
2½ Tbsp fresh ground ginger
1 Tbsp minced garlic
½ tsp salt
⅛ tsp black pepper
1 lb pork tenderloin
1 lb purple or red potatoes cut into wedges
1 lb orange or white cauliflower cut into florets*
¼ C chopped green onion for garnish
Yogurt Dipping Sauce
1 C whole milk Greek Yogurt
2 Tbsp extra virgin olive oil
2 Tbsp lemon juice
2 Tbsp freshly minced cilantro
½ tsp minced garlic
¼ tsp salt
Mix together the vegetable oil, lemon juice, honey, curry powder, ginger, garlic, salt, and pepper to create your marinade. Separate out ⅓ C of the marinade and place it in a ziplock bag with the pork tenderloin. Allow the pork tenderloin to marinate for at least one hour.
Meanwhile, prep the potatoes and cauliflower and coat it with the remainder or the marinade.
Preheat the oven to 400º F and line a large baking sheet with parchment paper. Arrange the sheet pan with the pork tenderloin in the middle and the vegetables around it. Roast for 25-35 minutes or until the pork tenderloin reaches an internal temperature of 145ºF.
When the pork tenderloin is done cooking let it rest for five minutes and then cut into slices. Serve with the potatoes, cauliflower and yogurt dipping sauce.
*I used purple potatoes and orange cauliflower for the fun of it, but red potatoes and any color of cauliflower, whether it be orange, purple or white, will work with this recipe.
Recipe by
Simple Seasonal
at https://simpleseasonal.com/recipes/curried-sheet-pan-pork-tenderloin-potatoes-cauliflower